Sailing Ship Pamir
1/250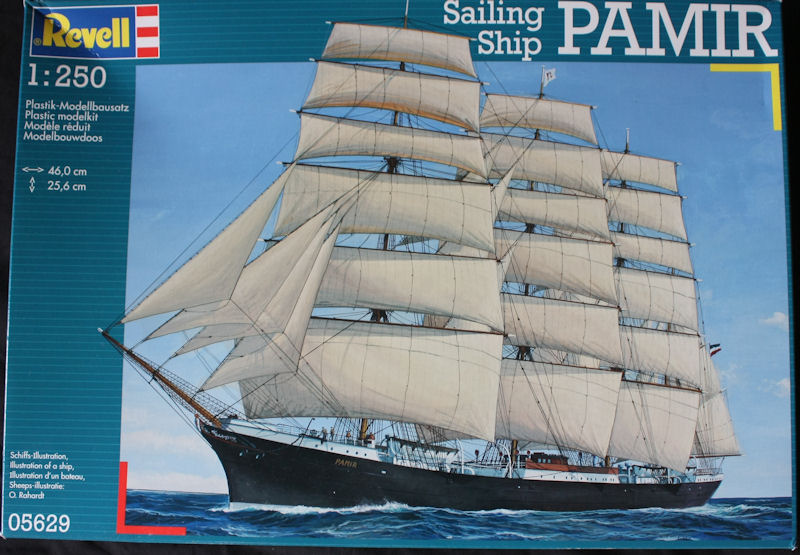 Pamir was one of the famous Flying P-Liner sailing ships of the German shipping company F. Laeisz. She was the last commercial sailing ship to round Cape Horn, in 1949. Outmoded by modern bulk-carriers, and having severe technical difficulties after her shipping consortium was unable to finance much-needed repairs and recruit sufficient capable officers, on 21 September 1957 she was caught in Hurricane Carrie and sank off the Azores, with only six survivors recovered after an extensive rescue effort.
The Model
The kit comes in a quite large open top box with a painting of the Pamir at sea under full sail. On opening the box there is actually a lot of space as the kit only takes up only around 2/3 of the volume of the interior.
The four sprues and the hull halves come in different colours reminiscent of the old Matchbox kits. The mouldings are nice a clean with no sign of flash or moulding pips. The moulded detail is nicely done and quite refined throughout. The hull appears to go together with ease and would need just a swift swipe with a file to clean up the seam. The only additional things for the modeller to do are open up the portholes, and back them with clear acetate. 

Moulded in a medium brown styrene the decks come on their own sprue. There are some deck houses and hatches moulded onto the decks, each of which has moulded wood grain which is a little regular and out of scale, but once painted should look ok.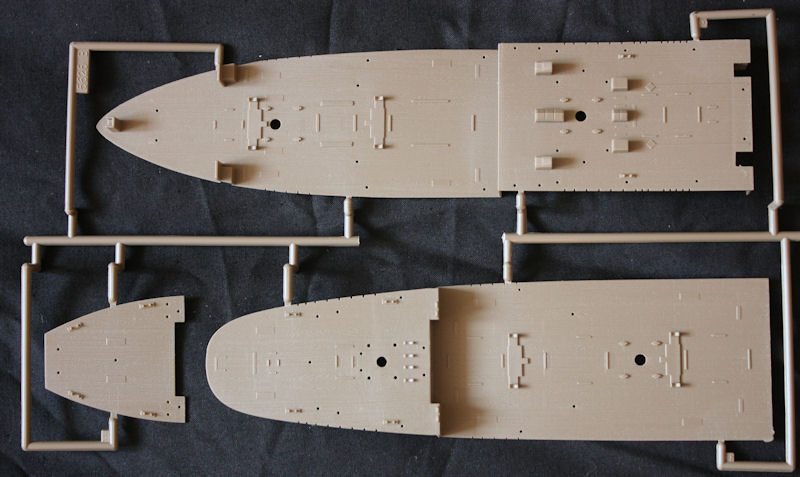 The second brown sprue contains the main masts, mast steps, fittings, spars, boat cradles, goose neck cranes,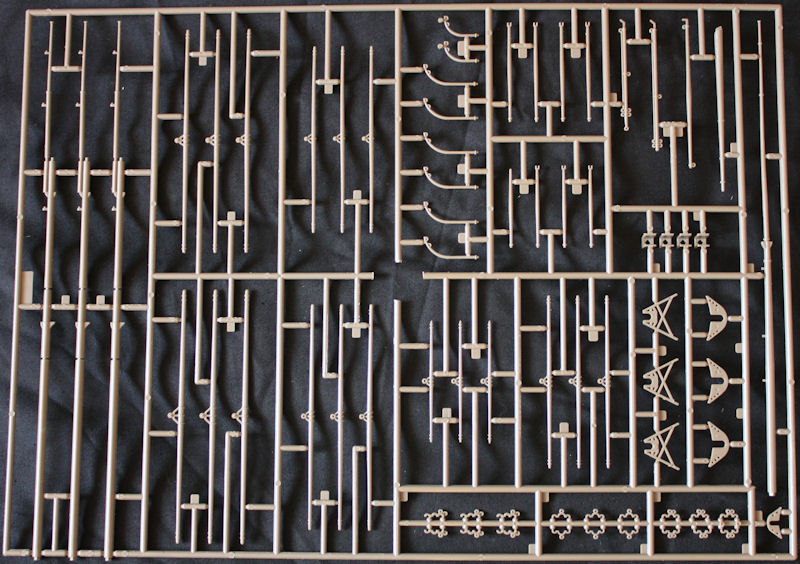 The next sprue is in white styrene and provides the main deckhouses, gunwhale fittings, cargo cranes, winches, ventilators, bollards, and mezanene decks for the cranes.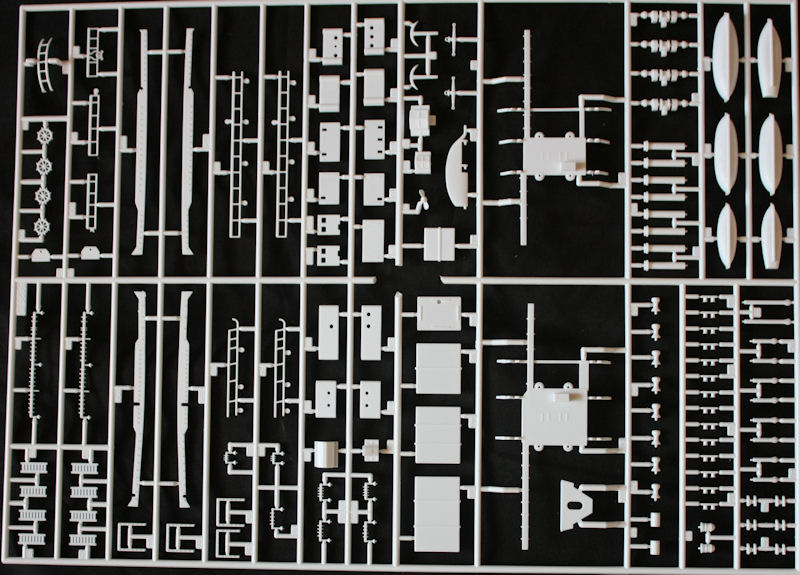 The remaining sprue is moulded in black styrene and contains the foredeck netting, ratlines and the three part stand.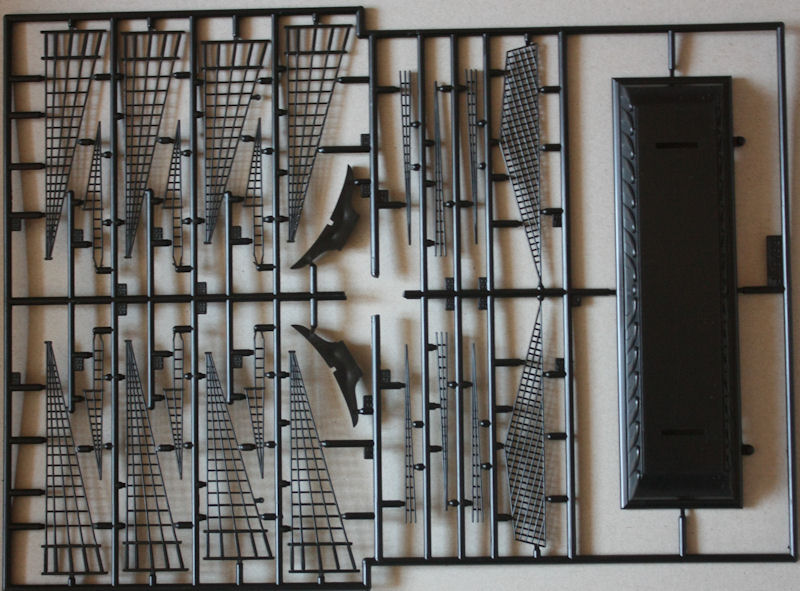 Since this is a windjammer, there must be sails. These are in the form of three vacuform sheets and each sail must be carefully cut out and shaped.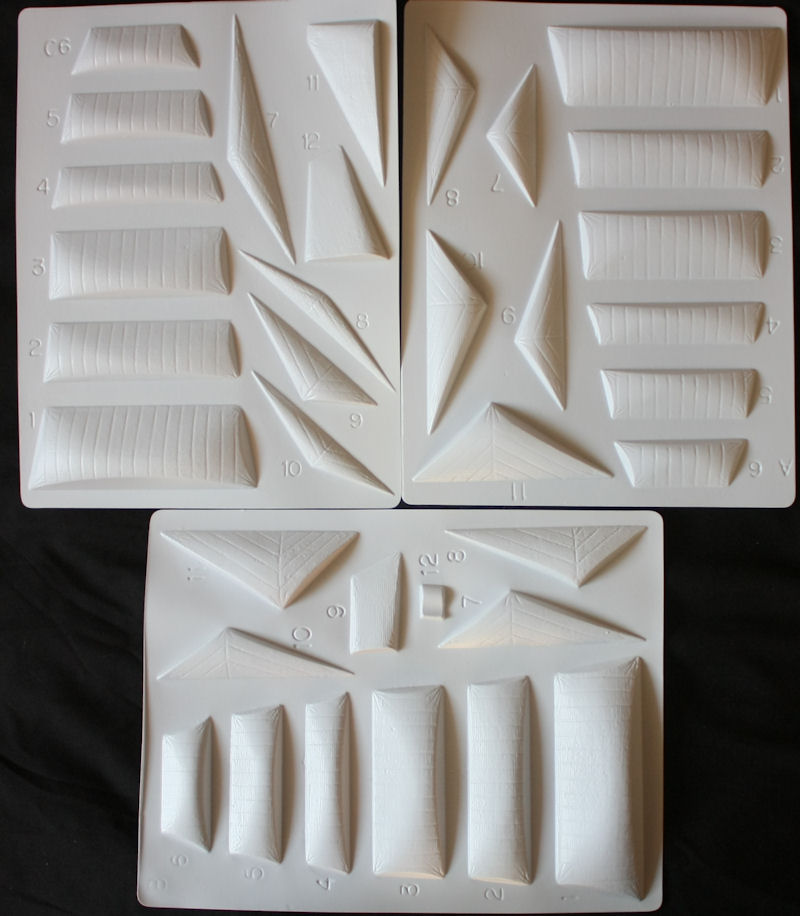 Decals
There is a small decal sheet provided with the ships name in a choice of colours depending on where the ships was registered, either Lubeck or Hamburg. There are also a number of flags for the different owning companies and ensigns. A paper sheet of code flags and pennants is included to add to the rigging as required.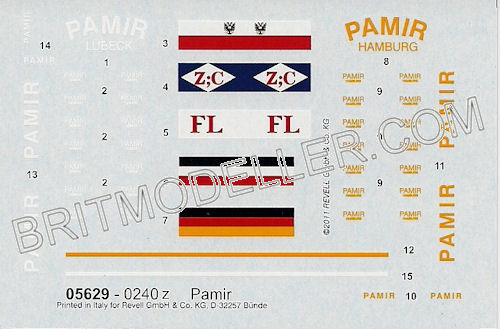 Conclusion
Although this model is in an unusual scale it look like it will build into a very nice model of a very attractive ship. It will take quite a bit of work and care to rig it correctly, but the instructions are pretty clear on where the provided thread is to be used. If you want to try something different then I can certainly recommend this kit.
Revell model kits are available from all good toy and model retailers. For further information visit