B-8M1 Rocket Launcher
1:48 Eduard Brassin (648041)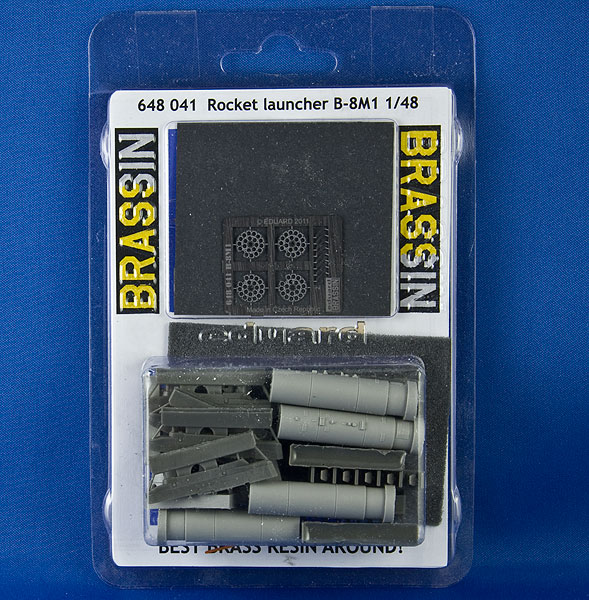 The B-8 Rocket Pod is widely used in the former Soviet bloc, and can carry up to 20 S-8 unguided rockets of varying types and uses. This variant is used on the Mig-29, and the Su-24/27/30MK/33/35 aircraft, with the correct adapter rails and anti-sway braces.
Inside the bubble-pack is a significant quantity of resin, consisting of four pod bodies, 4 tail cones, 4 nose cones, 8 adapter rails of two types and 16 sway braces of four types. A fret of Photo-Etched (PE) metal is also included, along with the usual small format instruction booklet.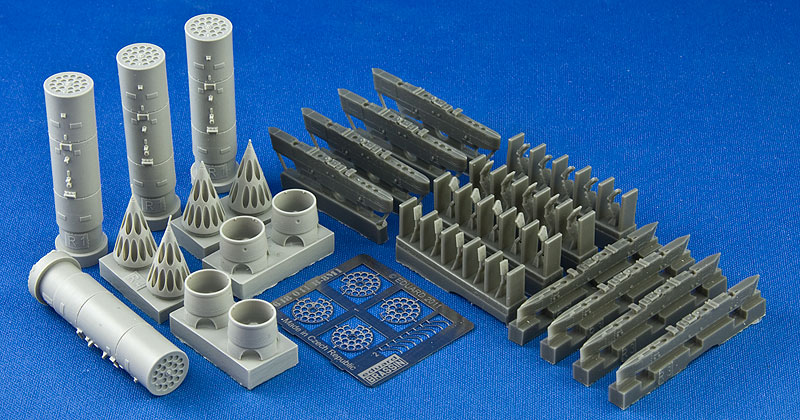 Each pod is built up from one body, to which the nosecone with its arrangement of holes crisply moulded is attached. A PE rear exhaust part is then added with the corresponding number of holes, which must be matched up with the other end to be correct. Fortunately, Eduard have foreseen this issue, and have provided a diagram to assist in this. A pair of tiny grab-handle shaped parts affix inside the tail cone, which is hollow cast, with mounting points moulded in. This fits atop the PE exhaust ports, and finishes the pod itself.
The adapter rails are for the Mig-29, or the Sukhoi range, and different sway braces must be used for each one, as well as fore and aft. The modeller must add short lengths of 0.25mm wire to each sway brace (6 pieces per pod) for ultimate accuracy, so remember to get some in stock when you plan on building them.
Conclusion
The parts are beautifully cast as usual, with the sway braces well protected by upstands on the casting block, but the nose cones have a tiny thin "probe" on the ends that arrived bent, but I suspect is a casting technique to avoid bubbles on the sharp tip, as they aren't shown on any of the diagrams. Check your photo references to be 100% sure though.
Recommended

Review sample courtesy of