Strv 122A/122B
1:72 Revell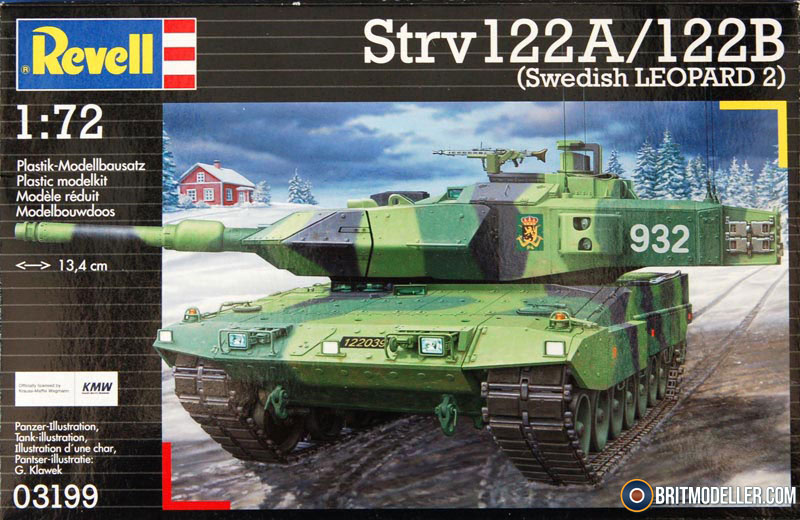 The Stridsvagen 122 is the Swedish version of the German Leopard 2 Main Battle Tank. The Leopard 2 was developed in the 1970s as a replacement for the Leopard 1 then in service with the West German Army. Regarded as a modern and highly capable tank, it has been upgraded through A1, A2, A3, A4, A5 and A6 variants throughout its service life. The most modern variants, including the Strv 122, are easily distinguished from earlier versions as they feature heavily sloped armour on the turrets.
The Strv 122 is an improved and upgraded version of the Leopard 2 A5. It features upgraded armour, improved command, control and fire systems and improved amphibious ability. It features the same short barrelled, but still highly effective, Rheinmetall L44 gun as the German A5 but has French GALIX smoke dispensers. Although 280 examples were completed, just 120 are still in service with the rest held in reserve.
This is the third kit in a series of modern toolings of the Leopard 2 from Revell. It is, to all intents and purposes, a new tool from Revell with alternative parts to allow the earlier Swedish variant to be built, including a complete new turret. The kit is packed into the usual end-opening box, inside which are five sprues of dark green plastic which hold the a total of 168 parts. As you would expect from such a recent tool from Revell, the mouldings are free from flash and feature exquisite, fine details.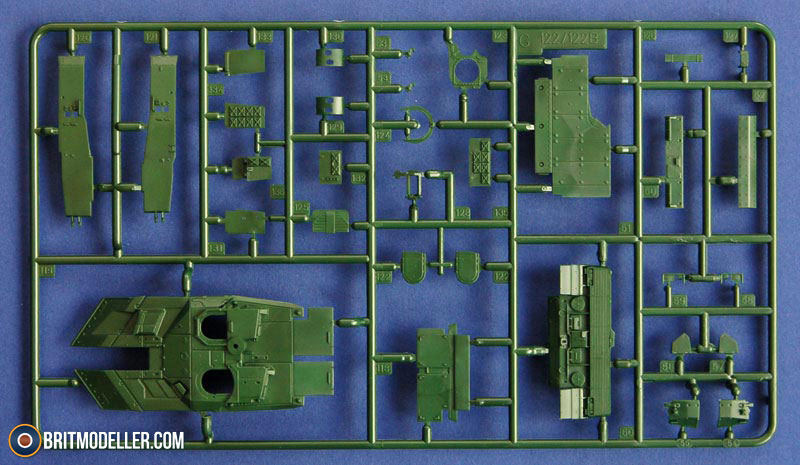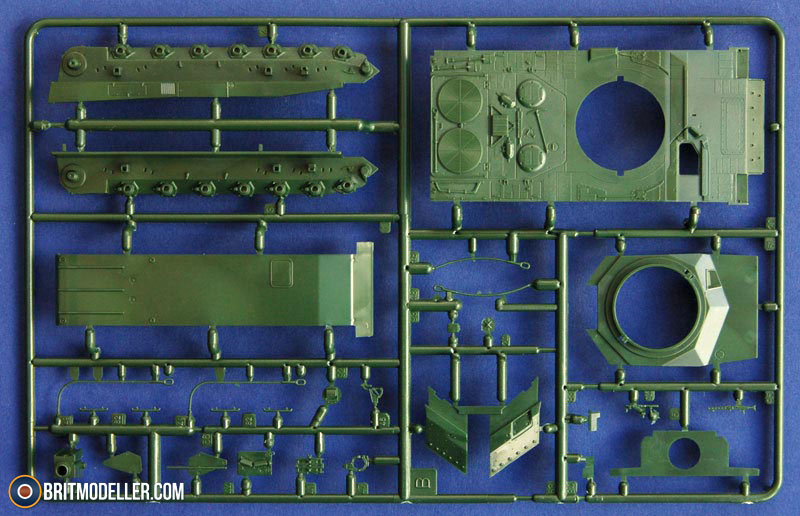 A cursory inspection of the sprues indicates that this is a high-quality kit. The hull features separate parts for the suspension and running gear and the road wheels are moulded in inner and outer halves. As was the case with the previous kits in this series, Revell have included tracks moulded in two halves which are designed to be bent around the wheels and drive sprockets and then glued in place. They seem to be made from the same hard plastic as the rest of the kit and rely on being very thin for their flexibility. Revell suggest warming the tracks in hot water prior to installation. It will be interesting to see whether this novel approach has paid off or not. If I get round to building this any time soon, I'll let you know.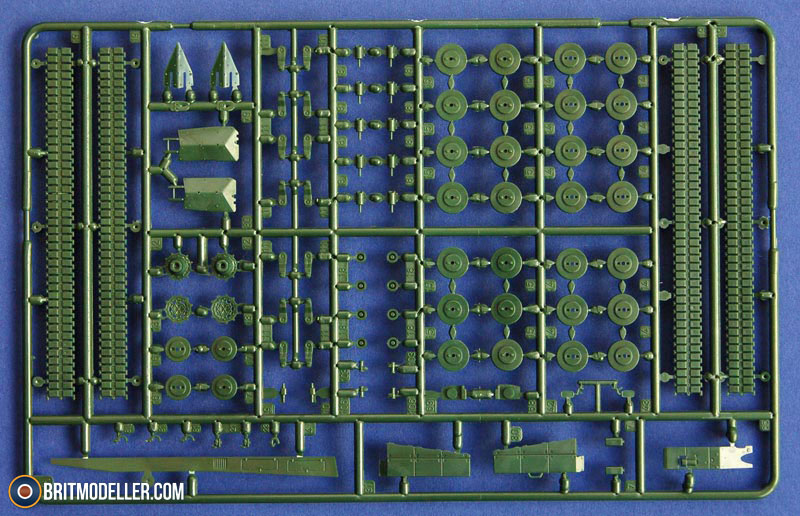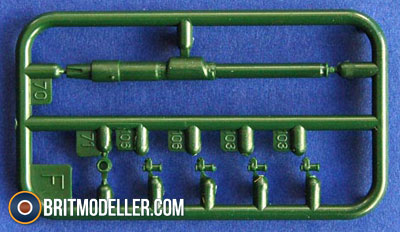 The hull and the new turret feature plenty of nice details including a subtle non-slip texture on the horizontal surfaces. Pioneer tools are moulded in place but pretty much everything else is moulded separately, including turret hatches. Even the rear-view mirrors can be posed folded or open.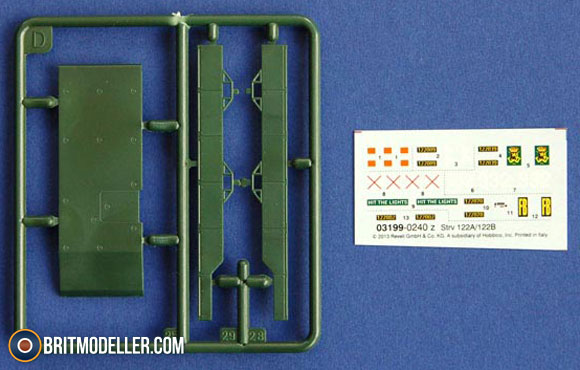 The decal sheet provides an impressive four options, although this is a bit of a swizz as all of them are finished in the familiar Green/Brown/Black camouflage scheme:
Stridsvagn 122A, South Sweden, 1999;
Stridsvagn 122A, Skaraborgs Regiment P4 "Combined Challenge 2006";
Stridsvagn 122A, Norbotten Regiment I19 "Cold Response 2006"; and
Stridsvagn 122B, Skaraborg Regiment P4, Skovde, 2012.
Conclusion
This is an excellent kit and an exemplar of what can be achieved when creating a small scale AFV kit. Revell have packed in an amazing amount of detail, and provided that their new approach to moulding the tracks pays off, this will be a fun kit to build. Highly recommended. 
Revell model kits are available from all good toy and model retailers. For further information visit