Over a year ago I started work on a decal set for the red and white machines of Jasta 18, but when I heard that Greg VanWyngarden was going to write a volume on the unit in the Osprey "Aviation Elite Units" series, I put everything on the back burner. Well as most will know, the book is now available – and a fantastic piece of work it is!
Using the new information included in the book and the excellent research that Wingnut Wings have put into their recent Jasta 5 decals for the Albatros D.V, I have produced two decal sets to cover the unit's history:
Volume One (48023 & 72015) "Berthold's Boys"
covers the red and blue period from Berthold's arrival as Jastaführer in September 1917 up to his appointment to command JGII in March 1918 – at which point he engineered the famous "swap" of the personnel and most aircraft between Jasta 18 and Jasta 15.
This set includes markings for as many of these aircraft as I could find; some are well documented and others are visible only in photographs which are either of poor quality, taken at long range or only show a portion of the markings. By deduction and gathering as much information as I can I think that I have managed a reasonable stab at the more obscure ones – you be the judge! They include:
6 Albatros D.III – three Albatros and two OAW-built
11 Albatros D.V
4 Pfalz D.III
3 Pfalz D.IIIa
Apart from the various individual insignia there are a mass of eiserneskreutz in various styles, to supplement those provided in the various available kits (the later balken kreutz did not come into use until after Berthold left the Jasta):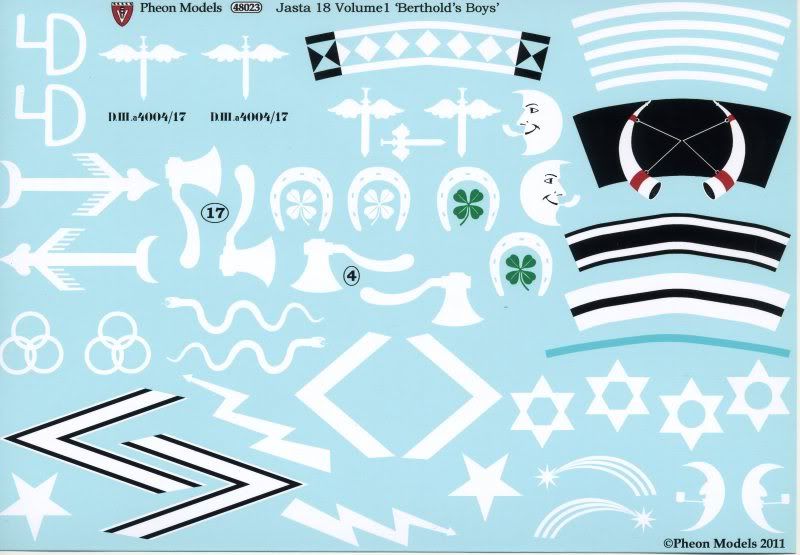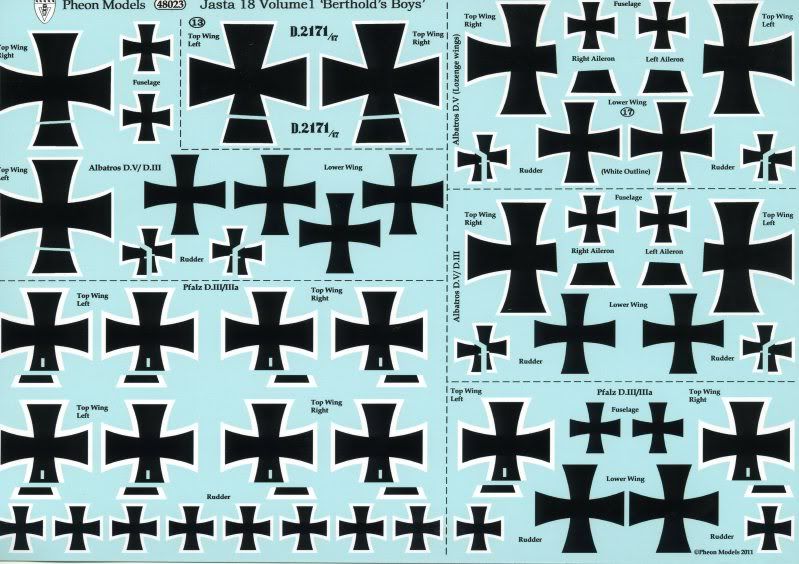 Volume Two (48024 & 72016) "Raben's Ravens"
provides for the fabulous red and white mounts of the Jasta following August Raben's appointment as commander after Berthold's "switch". Here again, I think I have managed to provide markings for every machine documented in photographs, I even intended to include the DH.4 used as a squadron "hack", but sadly there wasn't enough room on the decal sheets, so that will have to wait for another time.....
Included in this set are:
4 Albatros D.Va
One Pfalz D.IIIa
One Fokker Dr.I (in two marking guises)
10 Fokker D.VII from Fokker, OAW and Albatros production.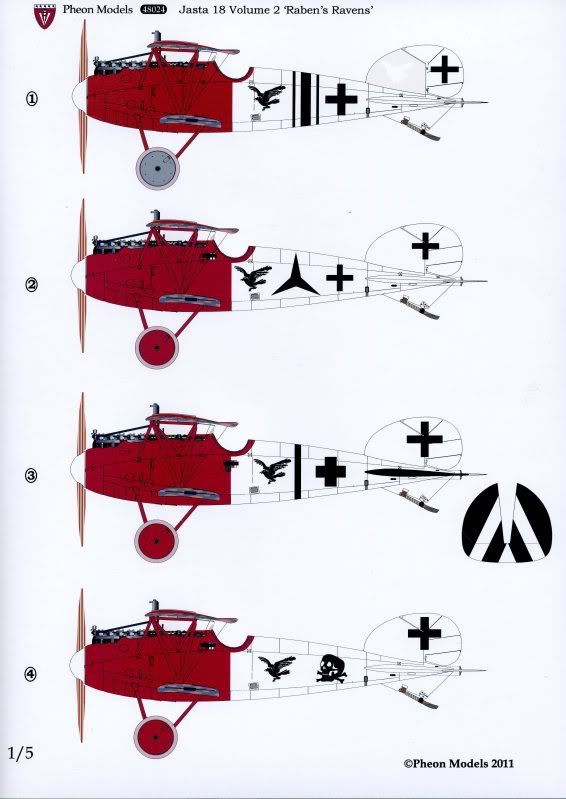 For some reason the trim on the second profile has come out as blue - it's GREEN (as shown on the decal scan)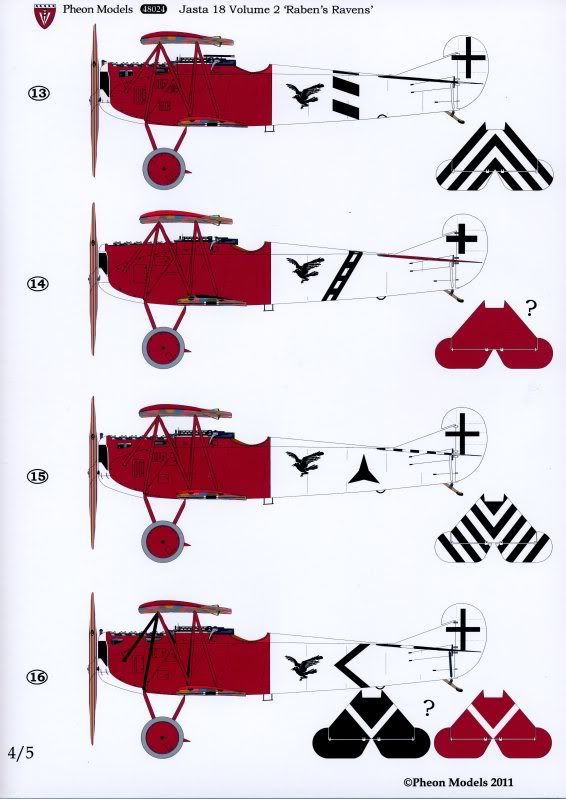 All the various individual markings are provided – including a pair of the famous ravens for each one and the myriad tail markings and fuselage trims are included as carefully tailored decals. Where the national markings differed from the factory-applied ones, these have also been included. The standard crosses can be found in the various kits available: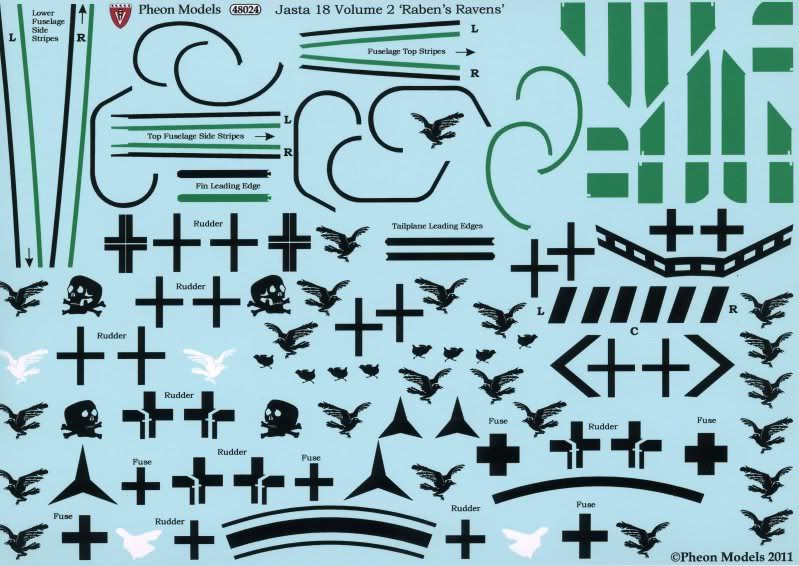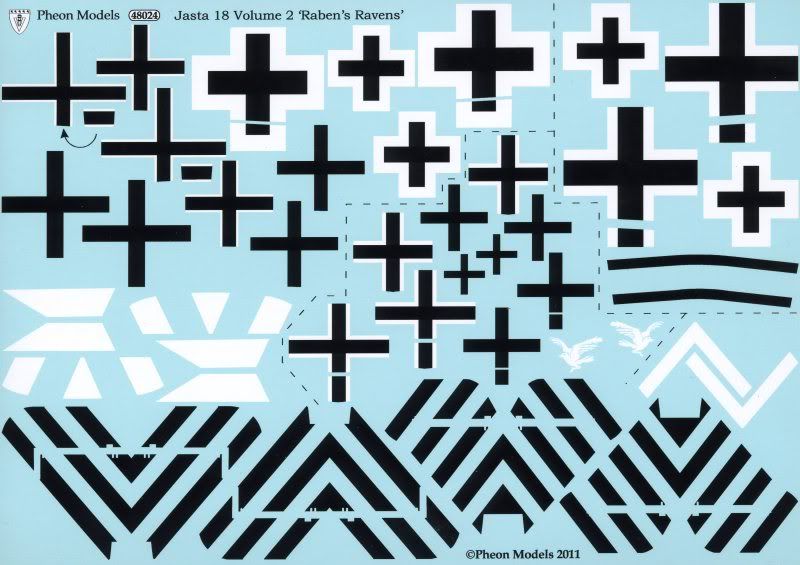 The artwork is now at the printers and I expect to have these available in four to six weeks – certainly in time for Telford.
I hope that modellers in both scales will support these new sets; I have been very aware that 32nd scale has, understandably, been getting the lion's share of attention in recent years but the superb 48th and 72nd kits available from Eduard and Roden mean that modellers in both the smaller scales are well catered for with kits appropriate for the mass of markings on these sets.
Both sets will be accompanied by copious profiles in full colour on glossy art paper and there will be full instructions for application and ideas for modifications, where needed, for the different kits. In deference to Greg's excellent book, I will not be providing the customary unit and pilot histories – the superb Osprey publication does this in great depth and detail and is an essential accompaniment to these decals.
Pre-orders are open now. Prices are:
48023
Jasta 18 Volume One "Berthold's Boys"
£12.7548024
Jasta 18 Volume Two "Raben's Ravens"
£12.7572015
Jasta 18 Volume One "Berthold's Boys"
£10.5072016
Jasta 18 Volume Two "Raben's Ravens"
£10.50
All plus P&P at our standard rates.
For a limited period (up to 31st October 2011) anyone pre-ordering both sets in either scale will receive them
post-free
(except for customers in Mexico and Brazil). If you pre-order for collection at Scale Model World in Telford (or order from Brazil or Mexico!), don't worry, we'll give you a similar discount equivalent to the standard first class postage & packing amount.