Sea Harrier FA2
1:72 Heritage Aviation Models Resin and White Metal Sea Harrier FA2.
The British Aerospace Sea Harrier was a naval VTOL/STOVL jet fighter, reconnaissance and attack aircraft, a development of the Hawker Siddeley Harrier. It first entered service with the Royal Navy in April 1980 as the Sea Harrier FRS1 and became informally known as the "Shar". Unusual in an era in which most naval and land-based air superiority fighters were large and supersonic, the principal role of the subsonic Sea Harrier was air defence from Royal Navy aircraft carriers.
The Sea Harrier served in the Falklands War, both of the Gulf Wars, and the Balkans conflicts; on all occasions it mainly operated from aircraft carriers positioned within the conflict zone. Its usage in the Falklands War was its most high profile and important success, where it was the only fixed-wing fighter available to protect the British Task Force. The Sea Harriers shot down 20 enemy aircraft during the conflict with one loss to enemy ground fire. They were also used to launch ground attacks in the same manner as the Harriers operated by the Royal Air Force.
The Sea Harrier was marketed for sales abroad, but by 1983 India was the only operator other than Britain after sales to Argentina and Australia were unsuccessful. A second, updated version for the Royal Navy was made in 1993 as the Sea Harrier FA2, improving its air to air abilities and weapons compatibilities, along with a more powerful engine; this version continued manufacture until 1998. The aircraft was withdrawn early from Royal Navy service in March 2006 and replaced in the short term by the Harrier GR9, now itself retired, although the intended long term replacement is Lockheed Martin's F-35 Lightning II. The Sea Harrier is in active use in the Indian Navy, although it will eventually be replaced by the Mikoyan MiG-29K.
Heritage Aviation models are well known for their resin kits, and have recently started to produce this resin and white metal SHAR FA.2. In this kit you get 3 bags crammed with resin, white metal, vacuum formed canopies and decals.
The kit is moulded in a mix of cream and light grey resin. Moulding appears to be quite crisp in areas, but as to be expected with a full resin kit bubbles and pitting are present in some areas, nothing that a few hours with some filler and fine sanding won't fix. To remove those air bubbles present check out Mikes handy thread
here
. Some of the parts are attached to large casting blocks that will require care to remove without damaging the final piece. The kit arrives in Heritage's postie proof box, stuffed with enough spares to keep most modellers happy; you get the usual 2 sets of vacuum formed canopies (worthy of note, the windshield contains the correct housing bump for the windshield wiper), 2 white metal seats, and more white metal then you can shake a stick at.
The main parts of the kit consist of a solid 3 part fuselage, with a one-piece wing. Panel lines are very finely moulded, some might argue that the panel lines are too finely molded and will require a light re-scribe, that is down to each modeller though. Panel lines, and kit dimensions all appear to conform to the plans that I'm using at the moment, but beware of the vagaries of plans, as they can often be wrong in some aspect. Notable omissions on the kit are panel lines around the nose and cockpit area, and it appears a few hatches have been missed off that will require a re-scribe for greater accuracy.
The wing has all the correct air scoops, vortex generators and bulges that are associated with the SHAR, and is very finely cast with a scale leading and trailing edge, however there is a rather large casting block to remove, but due to molding requirements there is no way around this, so care will be needed not to damage any of the wing fences when removing this block.
The engine is very finely moulded into the centre section of the fuselage, with very delicate fan blades. Sadly on my kit I had a few air bubbles on some of the blades, but this is nothing that cannot be fixed with a little careful filling.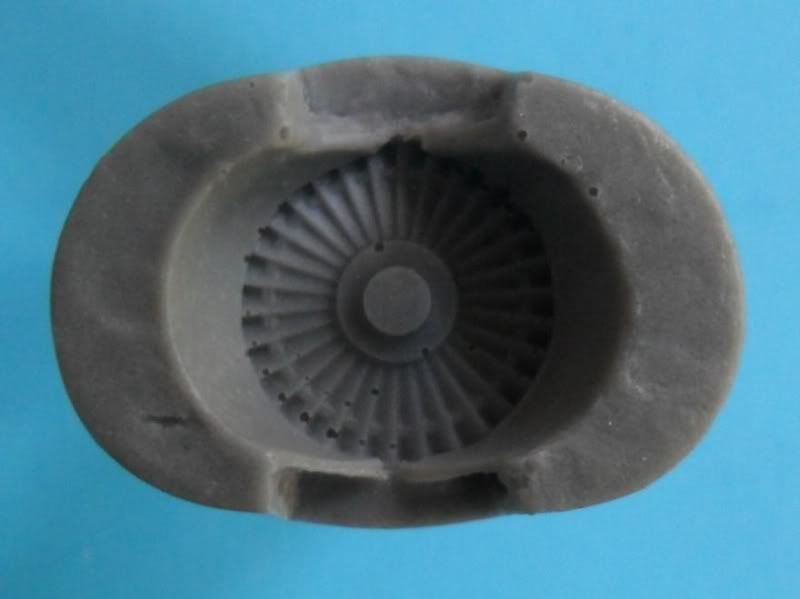 The vertical stabilizer and drop tanks are equally very finely molded, and both have very fine panel lines. A degree of clean up is required on the tail as pitting is present on my sample, and no pitot tube is present, so you will have to source or scratch build one. The drop tanks however show no pitting or bubbles and are very nice, so will really look the part when painted up.
The air intakes on a Harrier always seem to give manufactures difficulties, well not here, Heritage have reproduced them well, and capture the 'elephant ears' and blow-in doors perfectly. Heritage do not provide a full ordinance load-out with the SHAR kit, but you do get the necessary pylons in both white metal, and resin. You also get 2 Aden gun pods, which have all the correct bulges and panel lines, and drilling out the gun barrels will really set these off.
Another nice feature of the kit is that it gives you the option to have either white metal or resin horizontal stabilizers, giving you a nice selection of spares. The heat deflectors are very accurately molded in white metal, and when painted with the correct weathering will be hard to tell from the real thing. The landing gear and the tires are all finely cast in white metal. Sadly, a disappointingly large amount of flash is present on the white metal parts, especially the out-rigger wheels, so be careful when cleaning them up in case you accidentally remove details. A selection of lumps, bumps, and aerials for adding later in the build are also moulded in white metal for strength.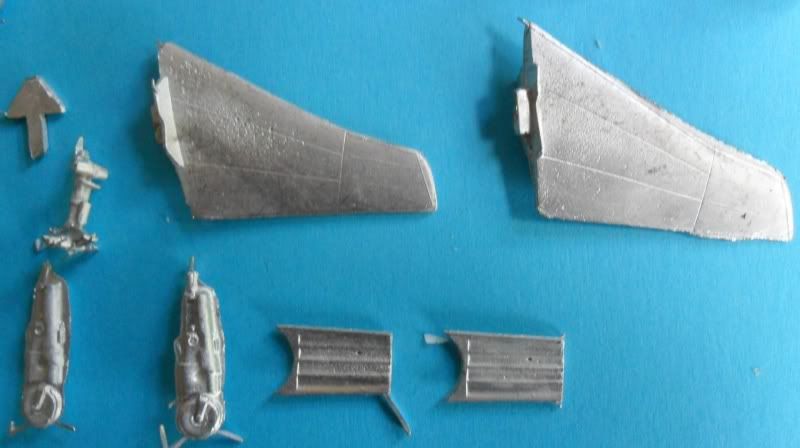 Moving onto the cockpit the first thing you notice is that its rather cramped in there, and as such the side consol detail is molded in place. The inclusion of a white metal instrument shroud is a nice touch, but the instrument panel provided lacks any detail, so sourcing from the spares box, or scratch building is required. Likewise a control yoke is not included in the set, this too will have to be sourced unless it was omitted from my box in error. The ejection seats are of reasonable quality, with all detail molded on, including seat belts. A small amount of clean up, perhaps some scratch building and they should suffice.
The remainder of the white metal pieces consists of some great looking exhaust nozzles and the 'bolt on' In flight refueling probe. The airbrake is also accurately moulded with external and internal detail.
Decals
The kit comes with a comprehensive stencil and markings set for one aircraft of 899 squadron, decals appear to be in perfect register and are very fine, with good colour density.
Conclusion
The Heritage kit is by no means a 'shake and bake' kit, What it is though is a full resin and white metal kit that requires extensive clean up of flash in some areas and scratch building in others. All this extra work will result in an accurate 1:72 SHAR FA.2. The kit is not perfect, the cockpit will require work from the modeller, and a re-scribe may be needed, especially if you plan to brush paint the model. Even with the added work needed the kit has all the right 'lumps and bumps' in the correct places, accurate and scale panel lines and a correct nose profile. If you want a nice easy kit that looks like a SHAR then this is not the kit for you, but if you want an accurate, challenging kit that captures the details of a SHAR FA.2, then this is the kit for you.
This kit is recommended, but only to experienced modellers.

Review sample courtesy of Ian at

Edited by Moofles, 22 August 2011 - 11:24 AM.