Mark 1 Ltd Decals Panavia Tornado "Dozen"
1:48 4+ colours and markings book
4 Plus are a well known Czech publisher of modeller friendly aviation monograph book titles. In the last year or 2 they have expanded into decals with their Mark 1 Ltd range. The Mark 1 range is slightly different though, as the publisher has sought to combine a brief monograph book with a decal sheet providing markings for 12 aircraft, hence the "Dozen" soubriquet to the range.
Each book is available with decals for a particular scale; 1/72nd and 1/48th are alway catered for, with 1/144th and 1/32nd options where kits are available too.
The start of the Tornado Single Type Group Build saw me scrabbling around for a scheme for my HobbyBoss F-3. Having settled on a 1435 Flight aircraft - stationed in the Falklands, but also famed for the Malta Gladiator Flight during WW2 ( "Faith, Hope, and Charity"), a quick web search showed the decals available in this range, which was duly purchased from Hannants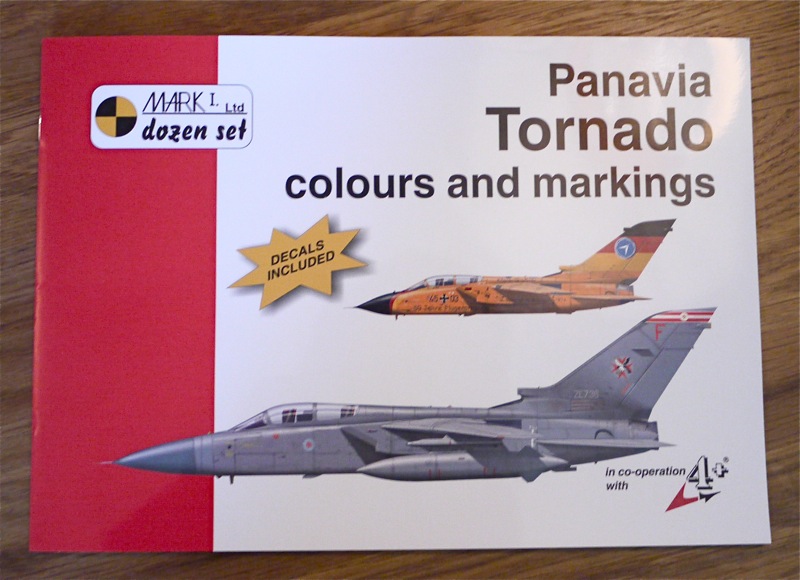 Priced at £21.50 for the 1/48th set ( £18.50 for the 1/72nd and 1/144th versions) this isnt a cheap purchase, but as it does combine decals and a reference booklet, it seems like reasonably good value for money.
So what does your hard-earned get?
The reference book is a 28 page A4 landscape publication, printed onto a good quality silk paper, with a thicker gloss laminated card cover. Print quality and photo reproduction throughout is excellent. There are no underexposed gloomy shots into engine intake or wheel bays for instance, and the colour printing of the ilustrations captures the colours about as well as the CMYK print process will ever do.
The back outside cover has a profile of each of the 12 markings options included - allowing the casual browser to easily see whats on the decal sheet. Nice thinking!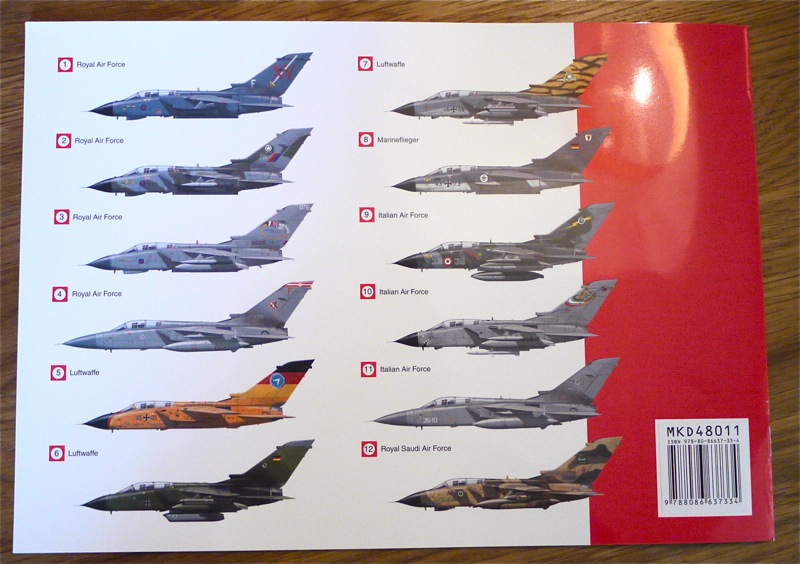 Each decal option is matched to a 2 page spread, the left hand page giving details of the aircraft, colour callouts ( with RAL, BS and FS numbers where required) and then a photo of that particular airframe, with two detail shots, all well captioned with useful comments. The right hand page has a well executed colour 4-view illustration of the aircraft - which serves as the decal placement guide and camo pattern guide. The colours in these are well reproduced, and its relatively easy to see camo demarcations. Given that the page is only A4 and its a 4 view illustration, I might be tempted to enlarge up a page to A3 on a colour laser copier, especially for the more complex schemes though. If you want more pics of each aircraft then you'll need addtional references, though a websearch on Airliners.net usually provides a wealth of images.
Whats nice with this book is that no detail shot is duplicated, so although there are only two such pics per option, this builds through the book to give a very useful selection of reference pictures. The last 3 pages are photos of cockpit interiors, and each image is clearly captioned as to which version it shows.
(please note that the pics I've taken are deliberately not the best quality to protect the publishers efforts. the actual pages are far nicer than these!)
The Decals
For the 1/48th issue there are 2 sheets of decals, printed by Aviprint. These are glossy and seem very thin on the backing sheet. The decals are all single peice, so there's no multi part roundels to align for instance. Registration, sharpness and colour is excellent on my set. I haven't tried any yet, but I would guess they won't cause any problems, applied over a glossy paint job.
Each marking option has aircraft specific decals such as serials, codes, fin flashes, and national markings too. Some stenciling is provided for each option too, especially things like Rescue panels and ejection seat triangles - which vary noticeably from scheme to scheme, and the tail stabilator angle of incidence scale - which again are different colours for different versions. There are a few "common to several" versions stencils included too.
What you don't get is things like the very prominent red lining for the walk/no walk areas on the marineflieger inital grey/white scheme, or the full fin tiger stripe graphic for the Luftwaffe JBG 32 option. The former could be made from red decal strip of course ( or sourced form an appropriate parent model), but the latter is going to be a challenging painting task, really needing some deft airbrushing skill to render it faithfully. I can appreciate such a big decal might have upped the cost, but perhaps a simple diagram of the lattice black stripes might have been a good idea - to give the modeller a pattern to use as a mask template?
The decals are not numbered or keyed to the illustrations either - which may make finding locations for some bits trickier than it need have been ( the one exception being the Luftwaffe overall yellow special from WTD 61 - in which the scientific formula markings are captioned on the decal sheet as to which wing and side they go). I would have liked to have seen some numbering for the decals, keying them to the diagrams. Although the layout of the book is made far cleaner by its omission, I think modellers would have preferred a little more placement info. Perhaps 4+ could address this in future releases?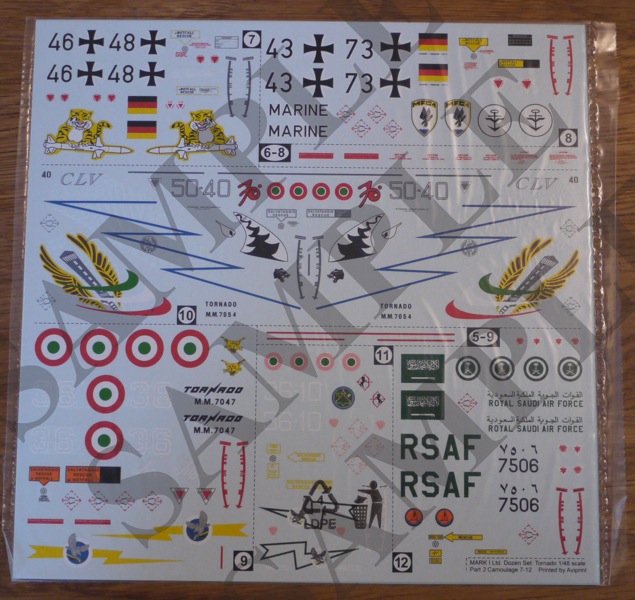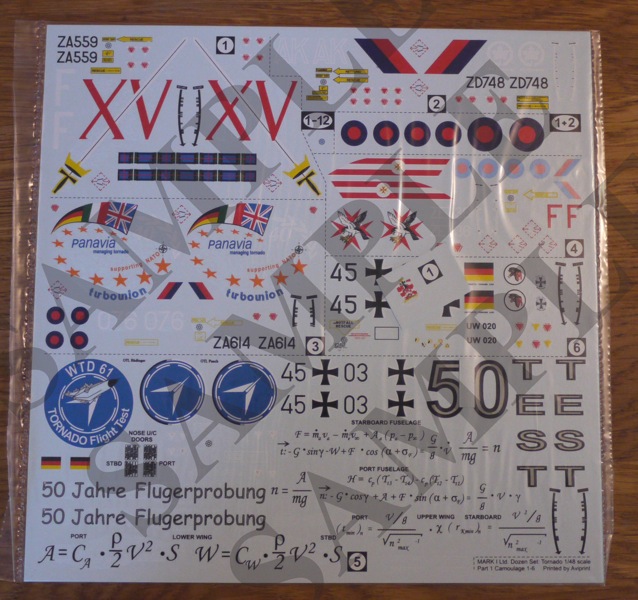 In any case you will probably need to source additional stencilling from whichever parent kit you choose.
The schemes offered are:
RAF GR.1 ZA559 "F" XV Sqdn, overal dark sea grey with large red XV and sword fin marking
RAF GR.1 ZD748 "AK" IX Sqn, wraparound dark green and dark sea grey - with a white canadian roundel on the fin.
RAF GR.4 ZA614 "076" Tornado Engineering flight. Barlet grey overal with MSG radome. Panavia 40th anniversary fin marking or flags and stars.
RAF F.3 ZE736 "F - Faith" 1435 Flight, Falklands. Barley grey over light aircraft grey. Maltese cross and eagle marking on fin.
Luftwaffe IDS 45 + 03 WTD61. Overall orange with black /red/ yellow tipped wings , stabs and tail special scheme 50th Anniversay of Luftwaffe Flight Testing. ( nb no colour match is given for the orange)
Luftwaffe IDS recce version 45 + 85 AG51 Immelmann. wraparound black grey, forest green and olive green scheme.
Luftwaffe IDS ECR variant 46 +48 JBG 32. Dark grey and medium grey over light grey, black radome. Tiger stripe fin, with tiger riding a HARM motif. ( nb tiger stripes need painting)
Marineflieger IDS 43 +73 MFG 1. basalt grey over off white, black radome. ( nb red upper surface walkway markings not included in decals)
Aeronautica Militare IDS MM7047 36-36 156 Sqn,36th wing. dark grey and dark green over aluminium. black radome. yellow lightning flash with inset silver eagle on blue disc fin marking.
Aeronautica Militare IDS ECR variant MM7054 50-40. 155 Sqn, 50th wing. Light grey overall,black radome and intake lips. Sharkmouth on lower nose, stylized blue lightning flash on fim, partially covered with unknown Anniversay marking of green, white and red swooshes and large gold winged gladiators sword.
Aeronautica Militare ADV ( leased RAF F.3) MM7232 36-10 12 sqn, 36th wing. Barley grey over light aircraft grey with MSG radome. small green outline lightning flash on fin with eagle crest.
Royal Saudi Air Force IDS 7506 75 sqn, 11 Wing. Desert wraparound scheme of dark green, dark earth and light stone. black radome. Small orange black and blue Phoenix badge on fin.
Conclusion
Overall, I think this combined decal and guide is a great idea. Its a quality package, just let down slightly by a few omissions mentioned, which is a shame as its obvioulsy been produced with the modeller in mind.
What I really like about this set is that it exposes Tornado modellers to schemes from all users, and not just the big brash special schemes too. With the exception of the orange Luftwaffe option these are all "line" machines which happen to have little splashes of extra colour. I'd not really bothered too much with Italian Tornado schemes, but the sharkmouthed ECR is an understated beauty in my opinion, and would stand out in a line of RAF models, as would the Saudi one (which never seems to be modelled as much as its unique camo warrants).
If I've been too harsh in my criticisms, its only because I think this is an excellent combination, that just needs a few tweaks to make it truly modeller friendly. It would be a great purchase for the Tornado fan who lacks encyclopaedic references, or for a group of modellers in a club wanting to all build the same aircraft type.
For Britmodellers in the Tornado STGB, I'm offering these decals to you - with the exception of the 1435 Flight F3 and the XV sqn GR1. Just drop me a PM if a scheme interests you. Decals are free, you just need to pay postage. Just to clarify this, these are 1/48th scale decals only.
Regards
Jonners
Review sample courtesy of my wallet.
Edited by Jon Kunac-Tabinor, 10 June 2011 - 08:41 PM.