As our first venture into non WWI subjects, we have extended the "Pheon treatment" to the RAF between the wars with the first of a number of planned decal sets.
Starting right at the far end of the Silver Wings era with the Gloster Gladiator, these highly colourful sets cover 17 individual aircraft with squadron badges and other colourful markings printed in TEN colours on one sheet, serials (8" & 20") in the correct styles for all the subjects and a variety of stencil markings on another and four sets of national markings on the third. Full colour artwork on five A4 pages of glossy photo paper in the usual style and a detailed booklet are common to both scales and in
48th scale
there will be also be a
pre-printed assembly jig
, to ensure correct alignment of the upper wing of the Roden kit.
Note that full squadron and serial markings are included to allow ALL of the subjects to be modelled (well 16 - option 17's serials need to be made up by adding the "20"s to "K79" prefixes!):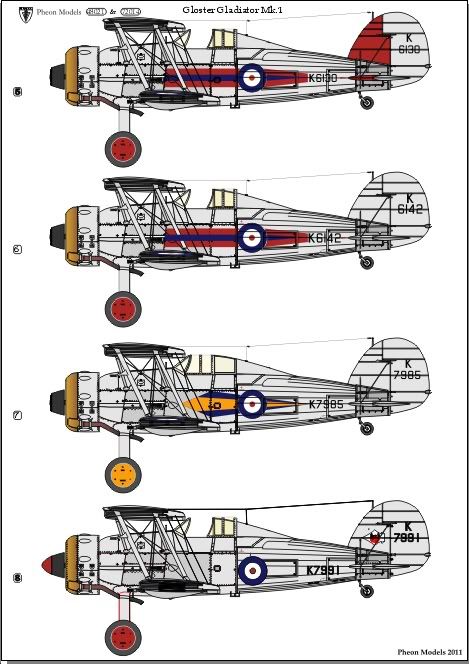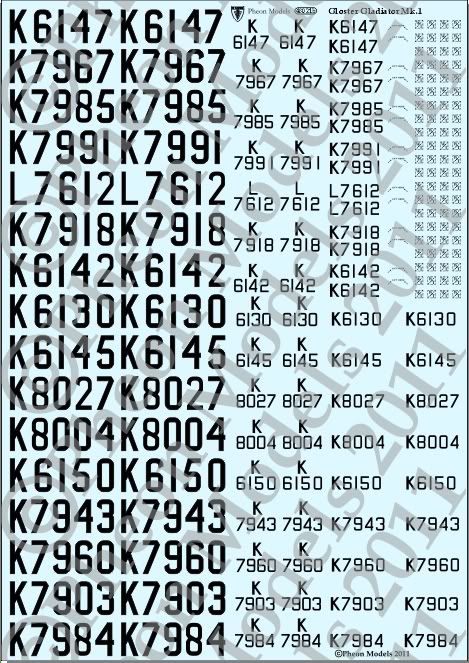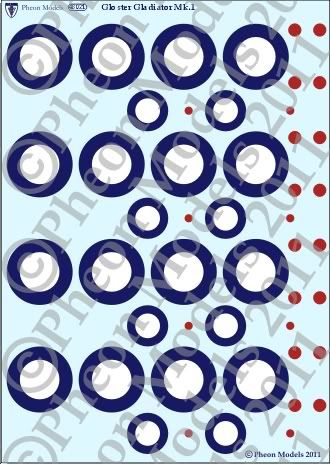 Suitable for the Lindberg and Roden kits in 48th scale, and the varied kits (including the excellent new one from Sword) in 72nd scale
The 48th scale set,
48021
price is £18.50 plus P&P
The 72nd scale set,
72014
price is £12.75 plus P&P
Additional 40" and 25"roundels are also available, four aircraft sets on each sheet, as 48021b for £4.00 and 72014b for £2.00, plus P&P
We expect to have these ready by the end of March. If you wish to reserve your sets in advance (
the first printing is in limited quantities
), please send us an email at:
pheon.models@hotmail.co.uk
We will send you a Paypal request (or bank transfer details - your choice) for payment only when the decals are ready to send out.
A new resin cowling (no more juggling three separate sections with joints in the cylider head bulges!) and some other replacement parts designed for the 1/48th Roden kits, are in preparation by Brian Fawcett now. More details soon!
Edited by Rowan Broadbent, 13 February 2011 - 02:18 AM.