Aircraft Weapons Set C
1:48 Hasegawa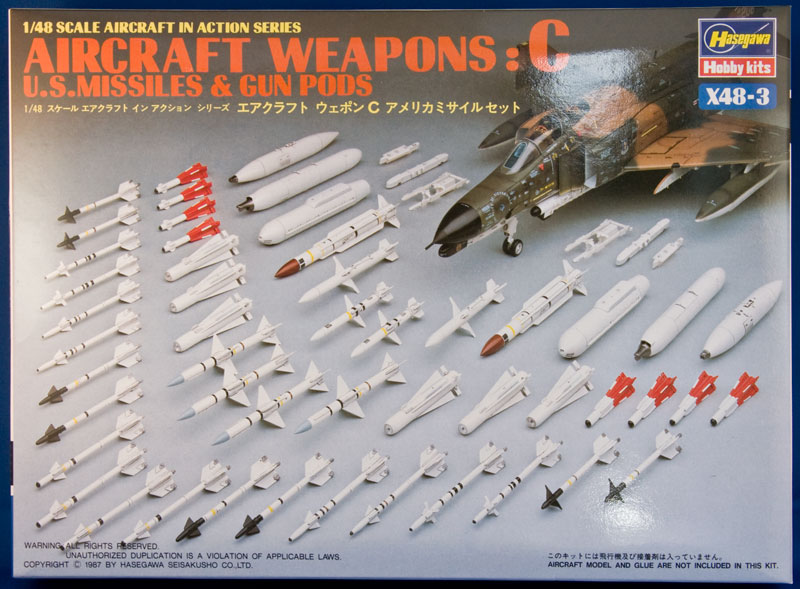 This is by no means a new release, but weapons sets are always useful when choosing a loadout for your aircraft that isn't included in the original stores provided with the kit.
Hasegawa have a range of sets to populate your empty pylons, with sets A-C being primarily aimed at the US military aircraft modeller. Of course the US supplies weapons systems around the world, so these sets are of wider interest to the modeller of cold war and modern military aircraft of many nations.
The box contains 4 sprues of grey plastic, a small clear sprue containing a number of hemispherical seeker heads, and a rather colourful decals sheet to deck out your painted weapons.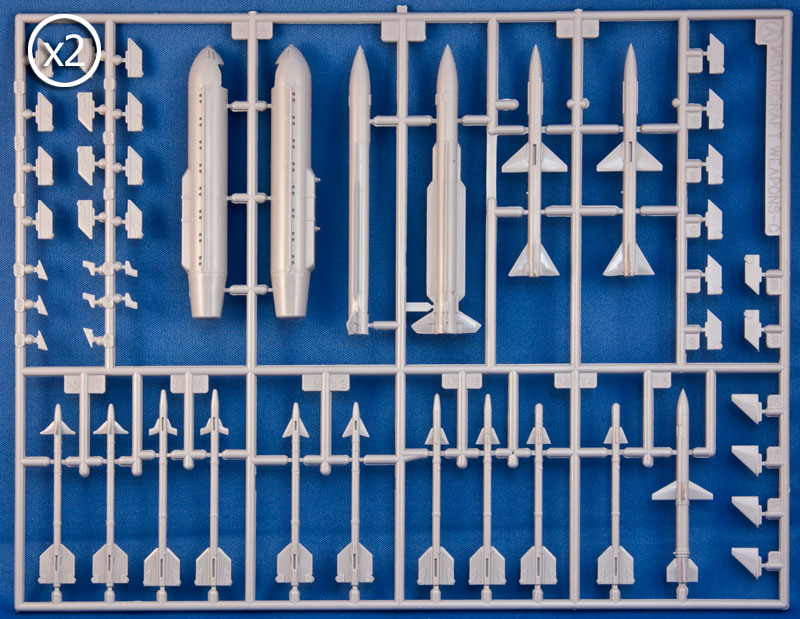 Two each of the A and B sprues are included, allowing you to build the following impressive list of munitions:
4 x AIM-4B Sidewinder
4 x AIM-9D Sidewinder
4 x AIM-9E Sidewinder
4 x AIM-9J Sidewinder
4 x AIM-9L Sidewinder
4 x AIM-7F Sparrow
4 x AIM-4D Falcon
4 x AIM-4G Falcon
2 x AGM-45 Shrike (with adapter)
6 x AGM-65 Maverick (with clear seeker head)
2 x LAU-88A triple rail for Maverick
2 x AGM-78 Standard (with adapter)
2 x AGM-88 HARM (with adapter)
2 x SUU-23A 20mm gun pod
2 x HIPEG 20mm gun pod
2 x GPU-5/A gun pod (GEPOD 30)
8 x sway brace fittings for F-4 C/D/E/EJ/F/G inner pylon
To the rear of the instructions is a decaling diagram with a short paragraph giving brief details of the weapon, which may prove educational to a weapons numpty like myself. Equally, simply typing in the weapon's designation into Wikipedia can provide much more detail than the instructions, but I suspect that this set was first designed before the internet became ubiquitous.
The decal sheet contains lots of stencil data for the weapons, color bands designating the weapon's status (inert, live etc.), and some large GE designs for the GAU-5/A. Some colourful shark mouth decals for the SUU-23A complete this lively sheet, which has good register and good color density. The carrier film seems a little large on some of the smaller decals, but a combination of trimming and decal setting solution should reduce its prominence.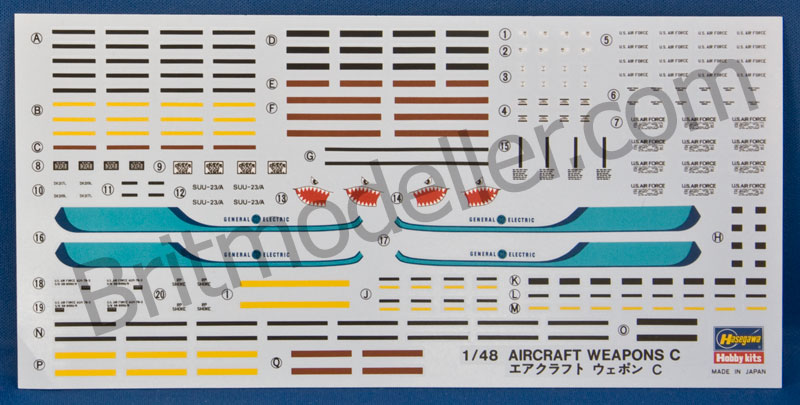 Conclusion
Essential if you're short of weapons for your latest creation or next project, and detail is good throughout, while the decals add that extra bit of realism. There is a little flash here and there, but nothing that will cause any problems.
Review sample courtesy of

UK distributors for