I picked this one up from the recent inbox
review
pile as it represents a first for me in many ways, and I was inspired to do a UAV by Spence's excellent build
here
the other day. I also wanted to build something quickly that I could have some fun painting & decaling.
I started it last night, choosing the offensive Hellfire toting version. This requires a few choices throughout the build, the first of which being the shape of the underside fuselage part, of which there are two. The differences all centre around the front of the underside, so check your references and the supplied drawings carefully, as it's easy to get confused. Remembering the addendum, I added fishing weights to the front upper & lower fuselage halves, which were secured with CA, then encased in PVA and left overnight to set up.
The wings interlink and sit on two pegs within the fuselage, so these were added to the lower half and held in place with a clamp to ensure a good bond. When cured, I could add the top fuselage, being careful to choose and install the correct sensor "dustbin" that hangs from the underside of the nose. I elected not to bother with a spinnable prop in case I broke the blades off during building, as they are quite weak & prone to damage. They were glued into the spinner and set aside for later.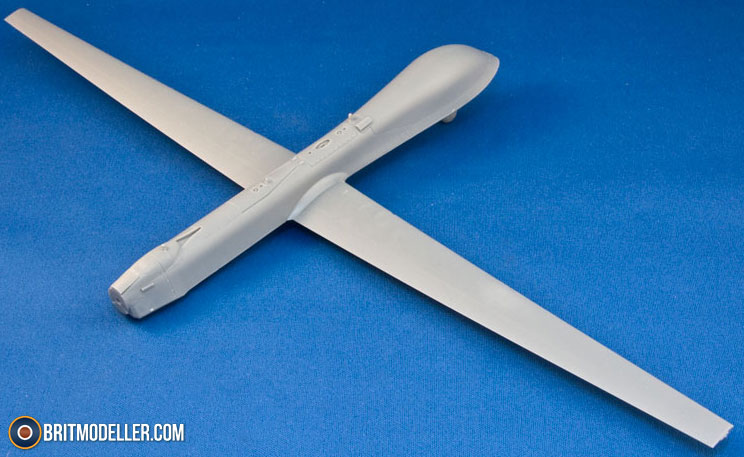 The airframe by this point was looking surprisingly finished, and the work I'd done straightening the wings with hot water and a stint taped to a flat surface showed up well. It is now a case of choosing which parts can be added to the airframe to simplify painting, so I have begun building up the missile rails, landing gear struts and the various lumps, bumps and fins that finish off the build. The only flaws in the design of this kit has been in location of some of the parts. The central fin A37 doesn't have a corresponding depression to the fuselage's pip, but a quick measure, mark & drill with a 0.8mm drill soon resolved that one. You have to be careful to sight the vanes by eye to ensure they end up perpendicular to the wings - something that could have been resolved with more substantial mating tabs. Still - not to worry!
The landing gear struts are made from a relatively large number of parts, but I have left off the wheels for ease of painting. At time of writing, the front wheel yolk looks like it could be a bit of a problem, as the contact patch is miniscule, the mating pips soft, and I can just see it snapping off at some point. I'll look at addressing this by using some brass rod to pin it in place, I suspect.