Signore e Signori!
After much research and interpretation We're delighted to announce our first Italian production:
Markings for twelve Macchi M5 Flying boat fighters 0f 260th, 261st (Miraglia, Venice) and the American manned 263rd (Porto Corsini)
Squadriglia
As with the earlier SPAD VII sets, this is a very colourful sheet with ten separate colours. I don' anticipate a massive demand for them, so they will be produced in limited numbers.
In 72nd scale a
very
limited run for the OOP Pegasus kit.
In 48th scale Lonestar Models did a resin one in about 2001 (now OOP) and Colin at Freightdog will release the Blue Max kit soon.
The Fly kit has a problem with fuselage depth from the hull step forward which gives the nose profile a too-pointed look and the reduced fuselage side area means that some of the decals won't fit without modifying the kit. Something I will be doing on line here at some early point. The alternative would have been to reduce the size of the nose artwork, numbers and cockades by 25-30% but I'd rather not compromise the set in this way. So if you are contemplating using these decals for that kit, be aware of these points.
Here are the schemes for the 260th and 261st Sq: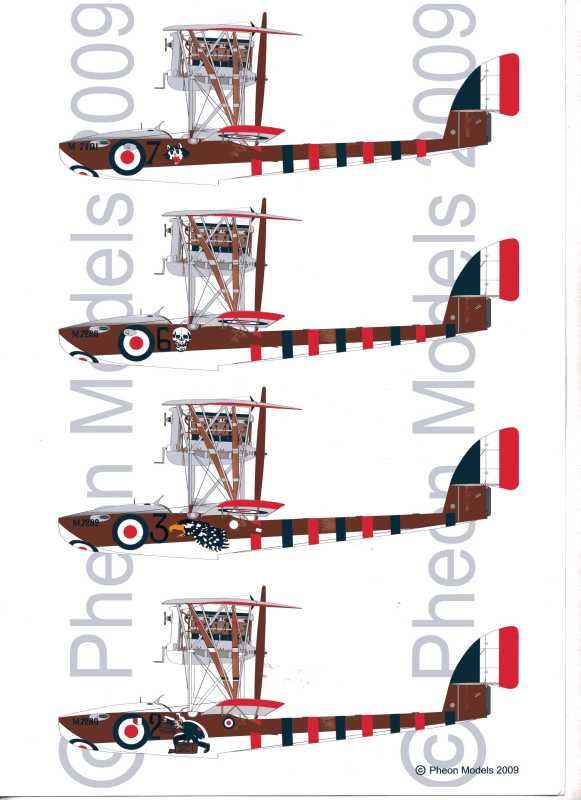 And for the American Naval Pilots of the 263rd:
Some of the schemes will be familiar, others are new interpretations of available photographs - there will be some alternative interpretation views with the final sets.
In addition to the usual high quality glossy side and plan views in 48th scale we intend to include an A4 32nd scale frameable print of one of the schemes, chosen at random (others available on request).
Prices (which reflect the large number of colours and low production runs - particularly so in the case of the 72nd scale set) will be £17.50 each for both 78007 and 48010.
orders are open now - email us at:
pheon.models@hotmail.co.uk.
NOTEA set of scale templates to build a new hull for the Fly kit and plans for correction of other accuracy issues will be made available to purchasers of the 1/48th scale decals free of charge. These templates will be sent (for the cost of postage) printed on self adhesive sheet for application to plastic card for cutting out or emailed to you, as you prefer. They are being tested now and should be available within ten days.
Edited by Rowan Broadbent, 17 May 2010 - 03:36 PM.