All the talk about Alpha Jets over on ARC has prompted me to get on with my own model, which was started back in March as a convalescence project that stalled, mostly because I couldn't sit down for any length of time! I'll move it on while waiting for bits of my Spitfire to dry.
I know this is a kit Jonathan is keen to see back in the Airfix catalogue and I agree, particularly with DERA markings! Anyway, here's what you get in the box:
I started by painting the cockpit interior Humbrol Ocean Grey with details and seats picked out in GW Chaos Black. I'm not to bothered about the innards because it's going to have the crew on board and be stand mounted, as inspired by this photo of ZJ646:
http://www.airliners.net/open.file/1105987/L
You should, however, remove the part numbers from inside the nose as you can see them in the cockpit!
Today I've got most of the basic airframe built. There are a couple of points to watch for:
1 My kit had a badly warped nose and needed a clothes peg to straighten things out
2 Fit of the cockpit interior isn't particularly positive, but if you line up the rear shelf you'll be fine.
3 The underfuselage panel seems to me to be a fraction wider than the joined fuselage parts. If you know its coming you can probably spread the fuselage halves slightly.
Fit in general is pretty good with a bit of fettling and so far the only filler I've used is a touch of correction fluid at the rear of the underfuselage panel: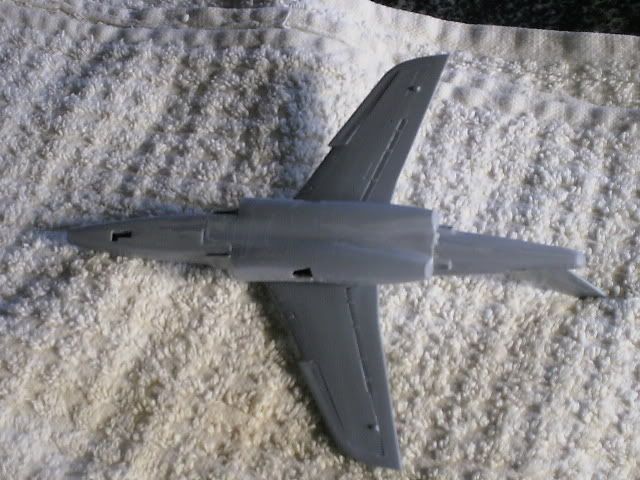 Fit of the splitter plates is cleverly done and very positive. I've only just attached the wings so they'll need to dry before I give the joins a bit of a rub down.
More soon.
John