Don't know much about this manufacturer at all. Nothing in fact.
I trawled the net and found one chap on a forum (who's contact I think I lost) who said that this kit was the man-vegetables before the Hasegawa came out, which killed it stone dead.
Anyway, I bought this of evilbay a couple of years ago during my reckless stash aquisition, and is the only vac form in my collection.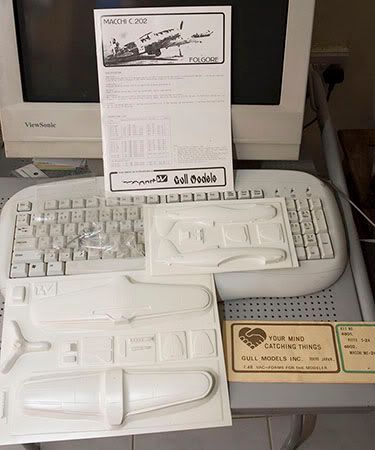 Standard fare from a vac form? White metal prop and undercarraige, sparse cockpit (a floor, seat and IP), and a canopy, and thats it.
The panel lines look like something Tommy Atkins would have dug into the Flanders earth, and the surface quality isn't fantastic. Lovely!
There are no decals, and if it ever gets to the stage where I will continue with it, I'll see about getting some from Pacific Coast Models, or begging for some spares!
To it's credit, it does come with a really nice instruction book, with scale drawing references which should help massively if I rescribe it.
I've gone round the outlines of the major parts with a black pen (a bit thick around the airframe I know), and will make a start on cutting it out over the weekend.
Watch this space!
Cheers,
Nick