Having just received a copy of this recently released conversion set, thanks to great service from John Vojtech at UMM Models, I thought that I'd write a little review.
The Valom conversion includes complete nacelles with detailed undercarriage wells in resin and is well packed in a small box containing the individually wrapped nacelles and a set of "instructions" :-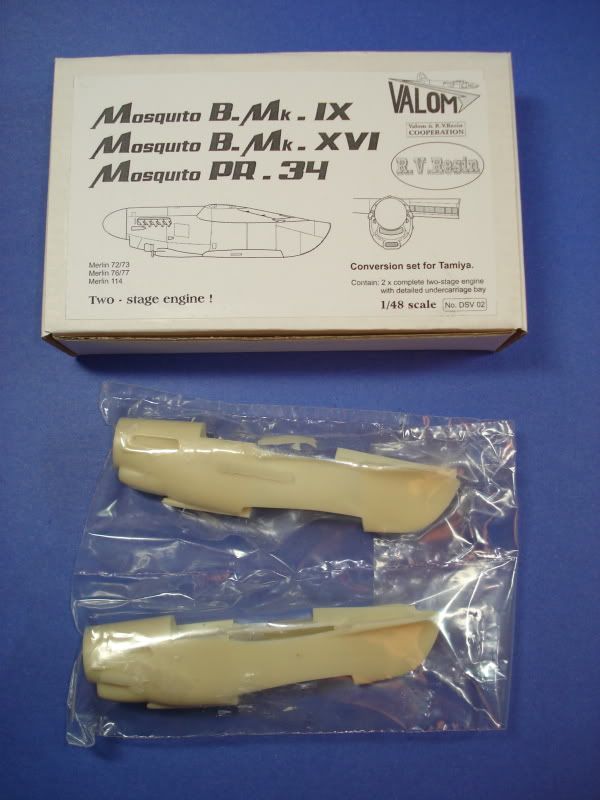 The resin parts are well detailed and beautifully cast with engraved panel lines and rivets with only a few bubbles visible on the forward bulkheads of both nacelles :-
A quick dry fit to a Tamiya BIV wing indicates that the nacelles will fit well and require little clean up/filling or sanding to do so (once the T shaped mould stubs are removed. Although the instructions don't tell you to remove the forward part of the Tamiya upper nacelle, it is obvious that you need to do so when the conversion is offered up to the wing.
However, as the Mosquito cognoscenti will have noticed in the above photos, there are some errors in the casting that will require some remedial work to produce an accurate Two Stage Merlin installation for a Mosquito.
Valom have repeated the error made by Tamiya and moulded recesses for the heat resistant plates behind and below the exhaust outlets. To compound this error, I don't believe that these plates were fitted to Two Stage nacelles so they will have to be filled in.
The exhaust recesses are sized for the 5 stub exhausts fitted to the Single Stage engine and not the longer recesses required for the six stub Two Stage engine exhaust. In addition no 6 stub exhausts are provided in the Valom conversion.
The intercooler vent fairings on the cheeks of the engine air intakes are missing and will have to be scratched from plastic card.
The exhaust "gills" along the sides of the carburettor air intakes are not present or provided as an add on. These "gills" are prominent in later Two Stage Mosquitos such as the PR Mk34.
The nacelle above the carburettor air intakes looks a little too "rotund" (see next photo)
I've done a comparison photo to show the Valom conversion with, at the bottom, an Airfix PRXVI nacelle (good dimensions but too angular in places) and, at the top, the Paragon Designs Two Stage conversion :-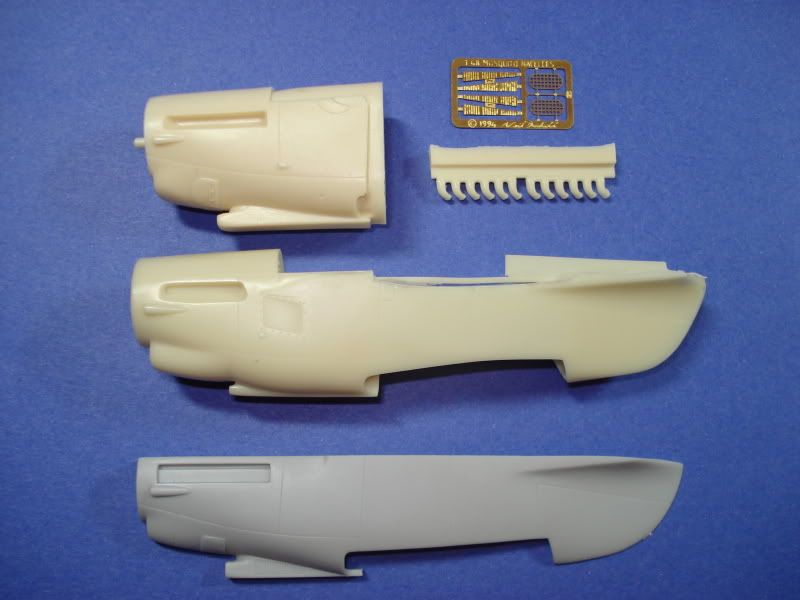 The Valom conversion matches the Airfix nacelle exactly for size and is approx 2mm longer than the Paragon example (based on a side by side dry fit).
My conclusion FWIW? The conversion isn't the simple "drop in" conversion that it could (should?) have been and that I was hoping for, but with a some sanding and scratch building it should build up into a reasonable representation of the Two Stage Merlin installation fitted to the Mosquito.
I hope that you find this helpful.
Ian
Mods: If you want to move this to the
Reviews
forum please do so.
Edited by Notdoneyet, 07 May 2009 - 01:16 PM.