After a minor problem , we are now ready to send these out.
Very different from the Sopwith sheet - produced in a larger batch and with TEN colours and FOURTEEN options.
This sheet is aimed at the new Roden 32nd kit and it's later bretheren and the 48th scale Special Hobby Kit.
We may do 72nd later, if the demand is there, but these were expensive to do (because of the multiple colours) and a small run in 72nd would, I think, have ended up as too costly. If anyone is particularly interested in the smaller scale, PM me and we'll see what can be done!
These are the options covered, fifteen in total but space restrictions meant that there is one difference between the two sheets: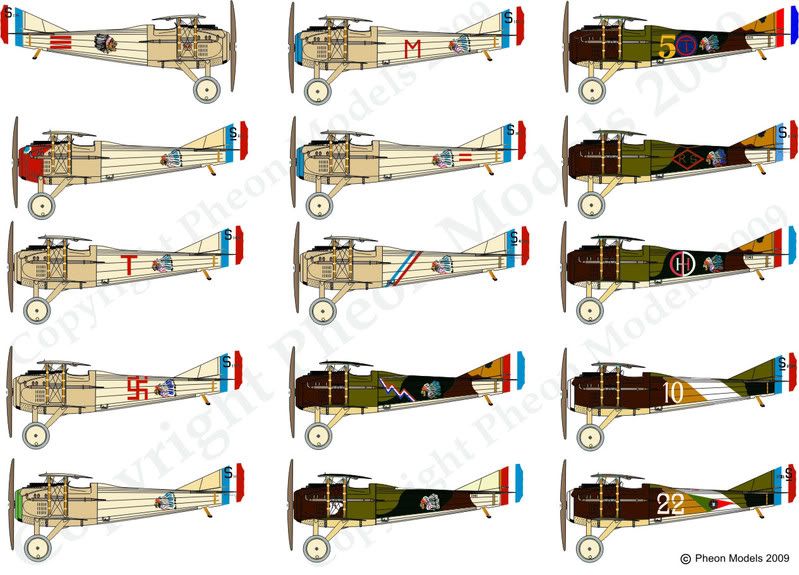 The 32nd scale set consists of two A5 sheets, first the individual markings:
Note the four different versions of the Sioux warrior - the outline shape was done with an aluminium stencil but individuals had their own variations - one is not finished - as seen in a photograph of that particular aircraft. There is also an example of the earlier Seminole chief head, worn by the commander's early SPAD and as seen on the Lafayette Nieuports. It was described by one of the pilots as not fierce enough ("it looks like an old lady in a drooping bonnet"!) which led to the adoption of the distinctly scary Sioux version!
The second 32nd A5 sheet is of national markings for French and USAS aircraft - note that both the French blue used initially by the 103rd and the later, darker USAS blue are included: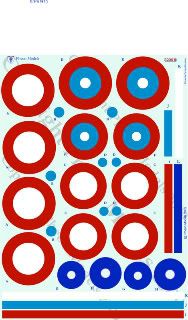 As with the Pup sheets, the colours shown here are not truly representative of the sheets - particularly the two shades of blue
The colours have been matched to the latest research. The cockades are presented in the 1,3,5 proportions particular to all SPAD aircraft in French (and USAS) service.
In 48th scale the packed A5 sheet contains the national markings as well and
six
various sioux heads!
Prices are:
32001 £21.34
48002 £14.47
P&P £1.10 to the UK, ££1.57 to European destinations and £2.09 to the rest of the world
Place orders via email to:
pheon.models@hotmail.co.uk.
Edited by Rowan Broadbent, 12 April 2009 - 10:53 PM.