Soviet T-24 Medium Tank
1:35 Hobby Boss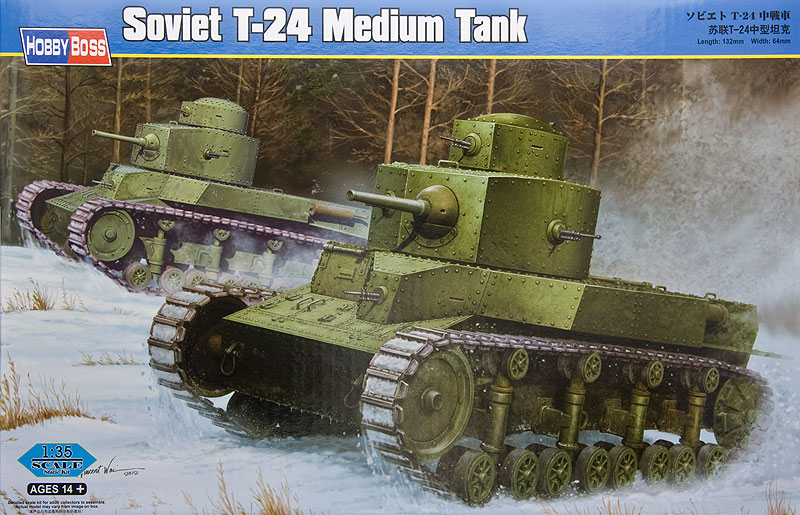 The T-24 was a rather underwhelming Soviet medium tank built in the early 1930s, never used in combat, and with only 24 ever built, it seems that they knew they'd sired a pup even before the tooling began rolling.  Looking at it, is surprising that the same factory in Ukraine went on to build the mighty T-34 later.

The engine was problematic, and although it was quite small, it bristled with machineguns, with two one in the hull, one in the main turret, and yet another in the small turret that sat on the main turret.  Its main armament in the primary turret was a 45mm gun, which gave it a reasonable punch, and its armour was sufficient to protect it, but none of that was any use if the tank wouldn't run.  The design process wasn't a total loss however, and the running gear was used later to provide a base for prime movers for artillery pieces.

The Kit
It's a testament to the sheer variety of kits that are being released now that we now have a kit of this incredibly unsuccessful vehicle, with only a couple of dozen ever built.  It arrives in Hobby Boss's standard top opening box, with a painting of a pair of T-24s moving across snow covered ground.  Inside are eight sprues plus upper hull, lower hull, turret in sand coloured styrene, twelve small track sprues in mid-brown styrene, a small fret of Photo-Etch (PE) parts, decal sheet, instruction booklet and colour painting guide.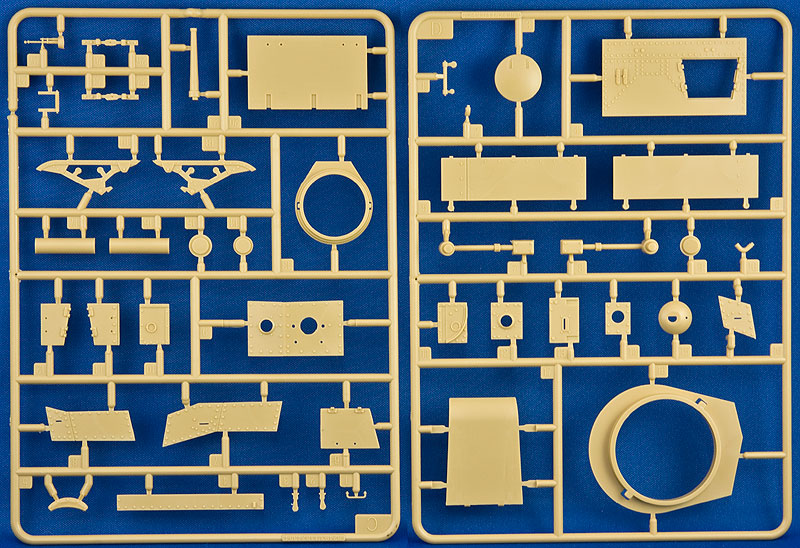 The majority of the sand coloured parts relate to the suspension, with four identical sprues containing road wheels and suspension, plus two more with drive sprocket and idler wheel parts.  The drive wheels are unusual, as they have a flower-shaped strengthening part that also traps the guide=horns to prevent them slipping off, while the idler wheel has a more standard pair of wheels between which the horns pass.  The road wheels are built up into two pairs on a T-shaped piston/pivot arrangement with a double return roller at the top of the strut, four per side.  The track links are individually moulded, with 12 per sprue and a total of 144 links provided.  It's not made clear how many of the links are needed to complete each track run, and the diagram shows only 35 links per side.  Given that we are supplied with 144, I suspect that's not an accurate figure.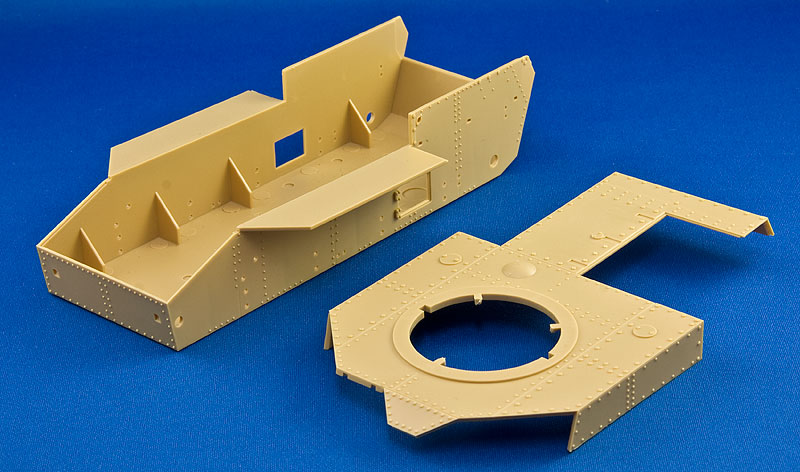 The lower hull includes both the sides and lower front glacis and rear bulkheads, the remains of which are added before the upper hull, with faceted additions is installed, all of which is festooned with large dome-headed rivets and bolts.  One of the rear engine deck covers is separate with hinge and handle detail, although there is nothing to show inside.  The rear of the tank is completed with a pair of towing shackles, a large rectangular grille, through which the heat of the engine is vented, and a long anti-topple ski that stops the tank falling over onto its turret while climbing steep slopes.  This is reminiscent of the FT-17 and similar late WWI tanks, which pegs it as an old-school design.  On the port rear fender, a small cylindrical exhaust with PE mounting bracket is added, and this has a recessed outlet, which would look better after reaming out with a suitably sized drill bit.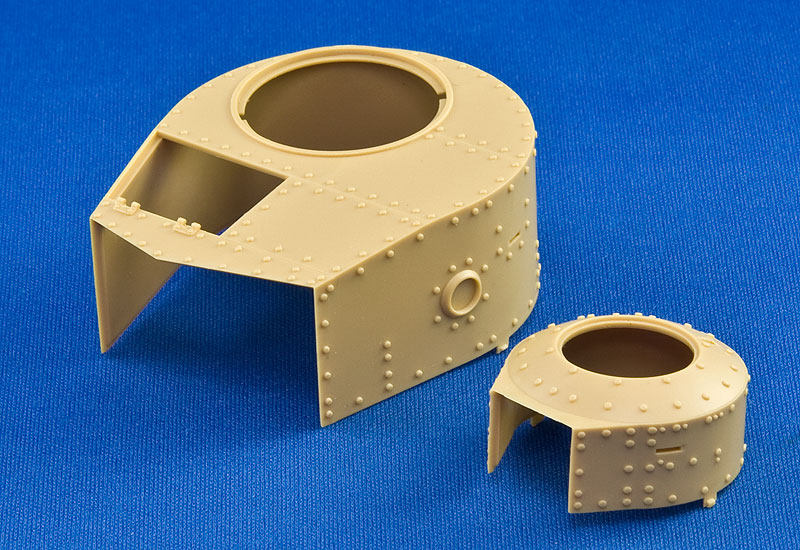 The turret is slide-moulded with detail on all sides, a small access hatch on the top, and has a lower insert with lugs to attach it to the hull.  The two turret mounted machineguns are added to the mantlet and side with the 45mm cannon in a ball-shaped lump on the mantlet, with a large curved and bolted strengthening plate underneath.  There is no breech detail included, but the real thing must have fairly bristled with breech and stocks blocking the gunner's every turn.  The turret-on-a-turret is similarly constructed with its ball-mounted MG, and circular access hatch on top.

Markings
As is often the case with Russian (in fact any!) armour, it's any colour as long as it's green.  Russian Green in this instance, and if you plan on building the tank in parade colours, the hub rims of the outer roadwheels and return rollers are painted white.  The decals include a red circle with white cross and the number three next to it for each side, plus (presumably) vehicle number 017, although a full set of numerals from 0 to 9 in are provided in duplicate in case you wanted to depict another of this small band of awful tanks!
Decals are printed on glossy paper with equally glossy carrier film which is a little large for the numbers, so might be better off trimmed.  The red circle seems to suffer a little from stepping under magnification, but this shouldn't show once they are applied and weathered appropriately.  Register between the red and white seems a little off, but again it's a minor niggle.

Conclusion
Without wishing to sound sarcastic, we are truly blessed to have this terrible little tank in injection moulded styrene, and it would look great next to the many other inter-war Russian tanks that are now available.  Whether the T-35 and T-28s will ever see styrene again is a good question, but looking at the way HB are heading, it's possible that they might be forthcoming unless their current love affair with Russian armour ends before they reach the top of the pile.

Highly recommended.

Review sample courtesy of