When I was a lad still in the UK, my dad would take me to old airfields, like Cranfield and such, where invariably there'd be some cold war relic shunted off to the side of the airfield somewhere. For ages I was wanting to do something depicting one of these sad derelict aircraft, and Airfix releases the T.11. It was the dayglow that did it for me. I distinctly remember being at a museum somewhere (Duxford, pre American hangar days, possibly), seeing some large twin engined prop driven aircraft decked out in faded dayglow and aluminium finish, with glazings that were yellowing and turning opaque, standing on flat tyres.. There was something sad about seeing an anonymous aircraft just shunted in a corner..
Anyway, the kit is quite lovely, and hopefully I'll get to make another..  But this one is going to be parked in the weeds, so no shiny polished lustre..
The cockpit was done with Alclad, Vallejo and Citadel paints, as weathered with AK interactive winter streaking grime and mig pigments.. Still need to install the yokes.. I also took a riveter to the engine bay and nose panels.. I also took the liberty of drilling out some of the instruments..
Airfix kindly pointed out the location of where to drill to position some bang seat pull rings, mad with heavy gauge fishing thread: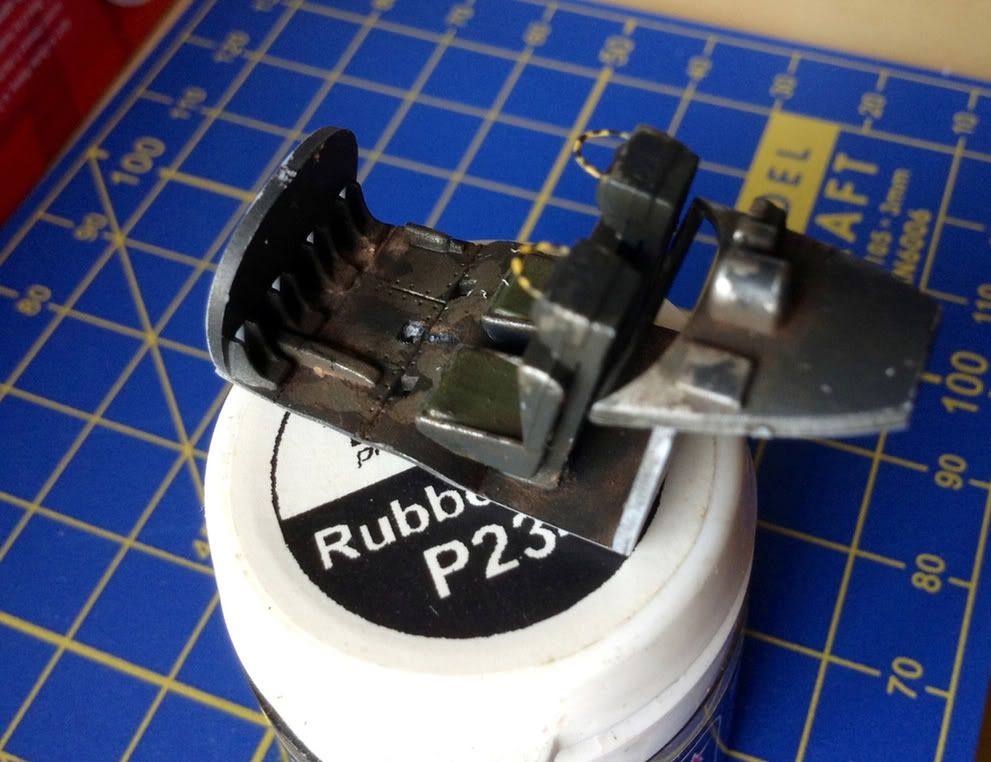 Drilled out instruments, as well as some clear fix on the remaining instruments:
Rivets added to the alu panels, and dents applied to the nose: