Now that I've completed one build for 2011/2012 which is my Sea Vixen ( Pix still needed for RFI)
i'm needing some time to think about what to build next, some friends have suggested that I
finish my Airfix Buccaneer which has been on the shelf for 9 years. I'm thinking about finishing the Javelin that I've been given, so many decisions it's almost stressful

So whilst I think about what to build/ finish I thought that the new Trumpeter T-64 might help me decide
on the next big project. I bought this a few weeks ago and all I can say is that I'm impressed.
The kit is a dream, goes together very well indeed and the new kit has given us a very important vehicle that's been missed off the radar
by the main stream companies, I know about the Skif versions but they require big $$ and time to correct.
Trumpeter have given us a new tool kit of the T-64 MBT and the only AM used so far is the track set brought out by Trumpeter. There
is nothing wrong with the kit supplied link and length tracks but these AM tracks are molded slightly better and by the look of the detail
I think that slide mold technology has been used. The track nuts are very well rendered indeed, these babies should be better and easier
to paint and fit.
In terms of accuracy.............. I couldn't tell you if this kit is 100% but its certainly better than the Skif kit. So here is the progress
so fa, still in the rough but looking good.
Enjoy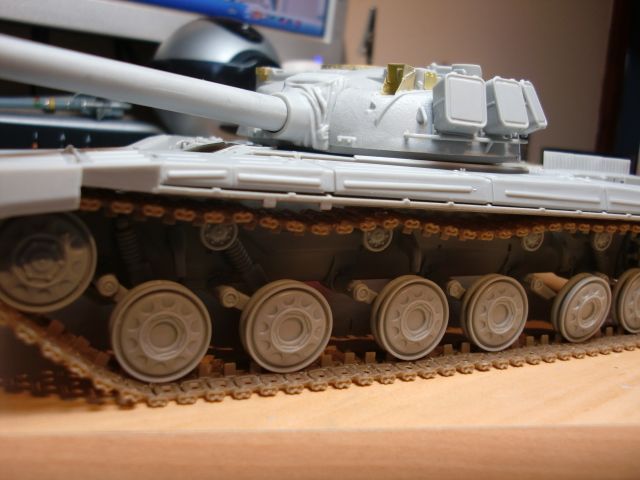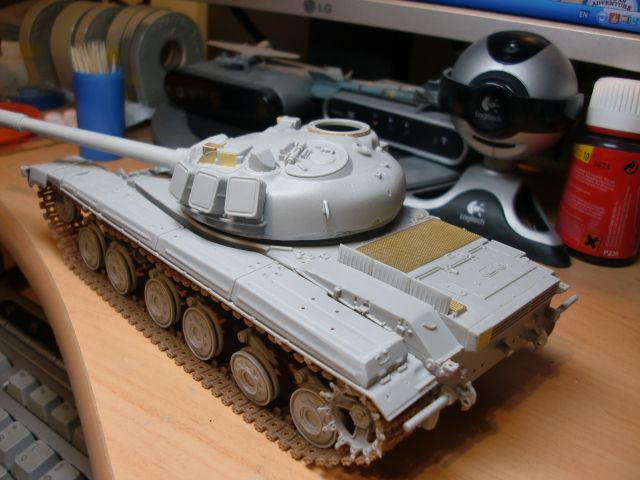 Regards
Dan
Edited by Dads203, 27 November 2012 - 03:12 PM.