Hawker Demon
1:48 Aeroclub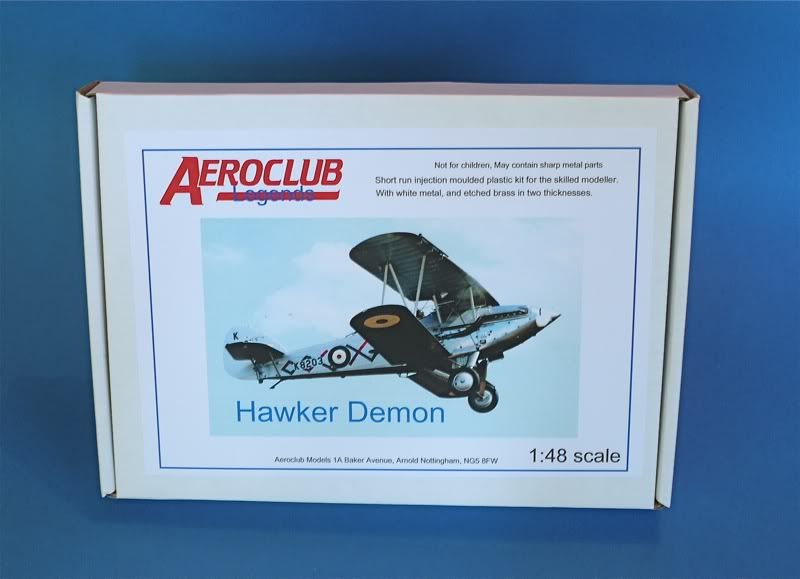 Courtesy of Wikipedia:
"The Hawker Demon was a fighter variant of the Hart light bomber. It was developed as when the Hart entered service, it was virtually uninterceptable by the RAF's fighters, which was demonstrated in air defence exercises where they were sometimes instructed to restrict their height and speed in order to give the RAF's Siskins and Bulldogs a chance. While the Hawker Fury offered better performance, it was expensive and was only available in small numbers, so when a fighter version of the Hart was suggested, the Air Ministry selected the type as an interim fighter until higher performance dedicated fighters could be bought in larger numbers. The new fighter variant added a second Vickers machine gun, while the coaming of the rear cockpit was angled to give a better field of fire, and a supercharged Kestrel IS engine was fitted. Evaluation of an initial batch of six aircraft, known as Hart Fighters by one flight of 23 Squadron during 1931 was successful, and larger orders followed for the fighter Hart, now known as the Hawker Demon.
Over 200 Hawker Demons were built for the RAF. The Demon were powered by varying types of the Kestrel engine. It had an armament of a single rear .303 in (7.7 mm) Lewis Gun with two .303 in (7.7 mm) Vickers machine guns in the nose. Large numbers of the type were fitted with a hydraulically powered turret in the rear, which had been tested on the Hawker Hart. The Demon was also sold to the Royal Australian Air Force. It saw only brief second line operations during the Second World War."
Many years ago a new fangled "cottage industry" company called Aeroclub, reknowned for their white metal engines, props, seats and wheels, released a vacuform model of the Hawker Hart/ Demon as their first full kit. John Adams, Mr Aeroclub, has now released a new short run injection moulded model based on his original patterns.
If you are unfamiliar with Aeroclubs injection moulding, but used to mainstream models, then a cursory first glance might leave you a little disappointed: But you need to look with better eyes because what is presented here is an absolute gem of a model.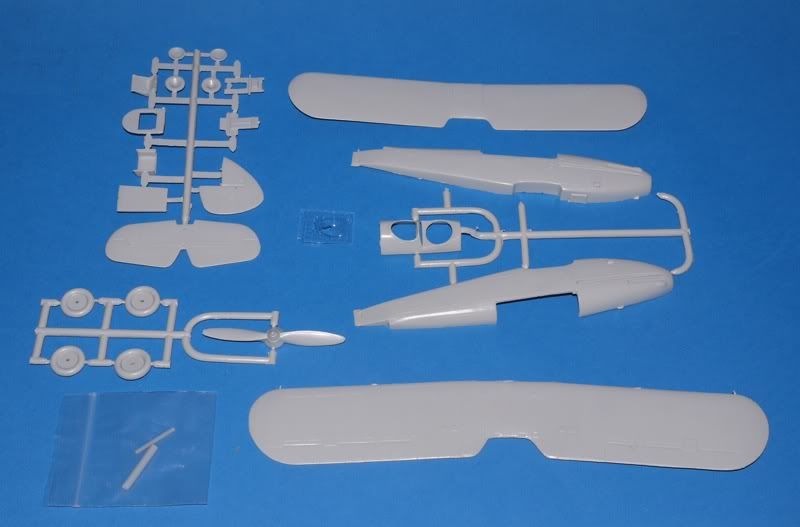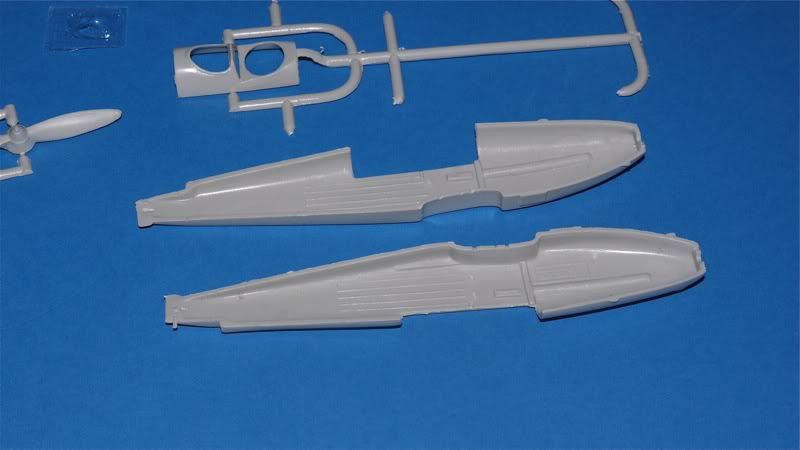 The injected parts, in Aeroclubs familiar glossy pale grey plastic feature a mixed of fine recessed and raised detail, which is as crisply rendered as a short run system will allow. There is a small amount of flash present, but nothing that a few minutes clean up with a scalpel and sanding stick wont solve. Some of the recessed detail might benefit from a sharpen up with a scribing tool, but no more so than say a Special Hobby or AZ model might need.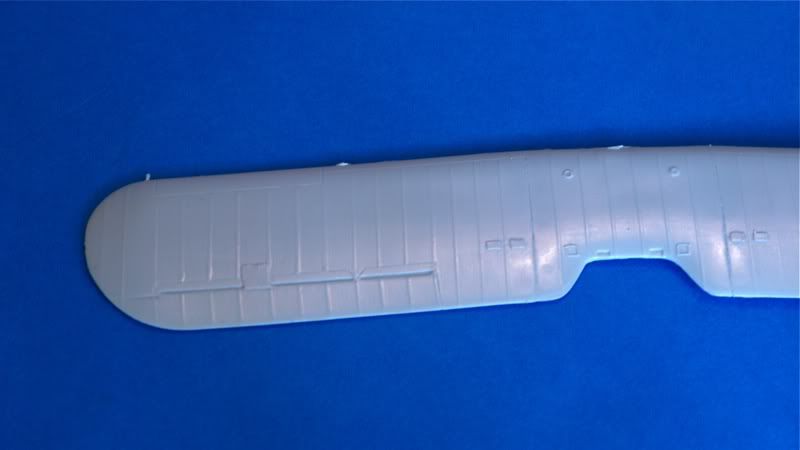 Wings are moulded in 1 peice and are commendably thin. Strut attachment holes are are clean, though you'll need to drill rigging attachment holes. The leading edges will need a bit of a clean up. I would suggest using either side cutters or a razor saw to remove parts from the sprues, leaving a small stub - which you can clean up with scalpel, file and sanding stick. The plastic is easy to work and sands well. A test fit of the fuselage revealed a little bit of waroping at the rear end - but a clamp will solve that. the 1 peice lower wing fits well into its recess, but dont kid yourself that you wont need some filler here.
Detail parts for the model are provided in 2 forms. White metal for the larger parts, and etched brass for the finer bits. The metal will need a clean up, but I've never seen a white metal part that didn't. Two styles of exhaust are provided to cater for the RAF and Australian versions ( plus a third type on the etched fret), and a very neat rear gun ring and oil cooler will add finesse to the model without needing to fiddle around.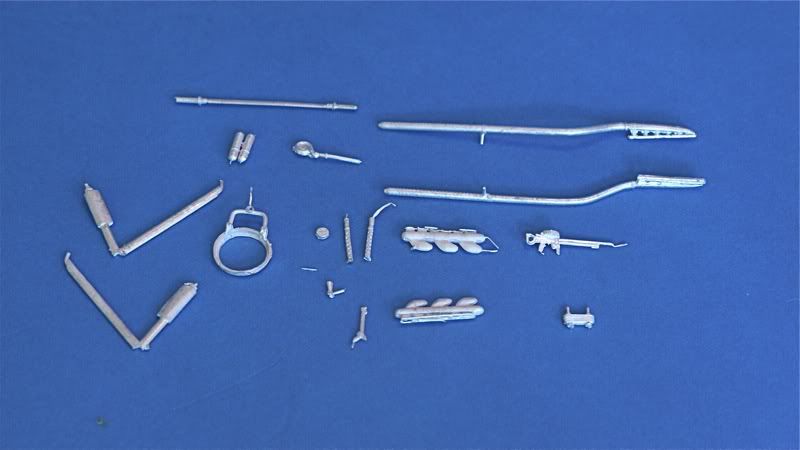 The etch is supplied as two frets. A standard thickness sheet provides things like instrument panels, throttle quadrant, radiator matrices, aileron horns and slat hinges.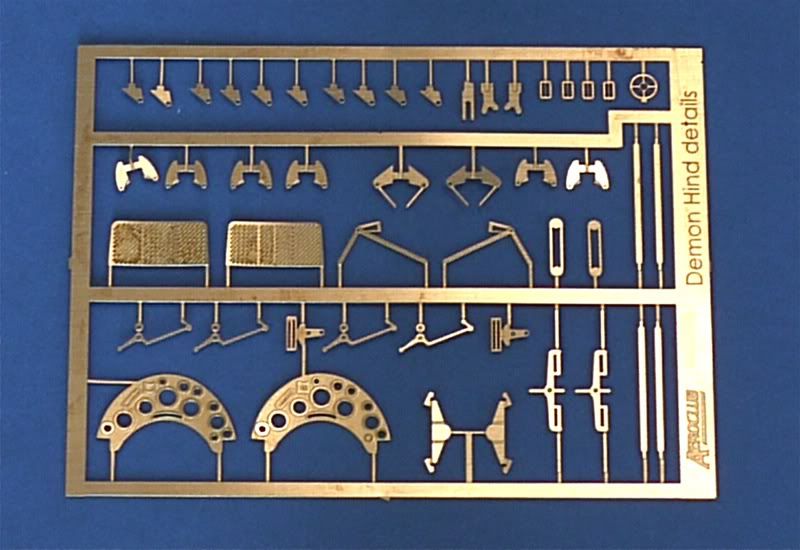 A much thicker fret supplies cockpit framwork for the side walls, control column AND struts.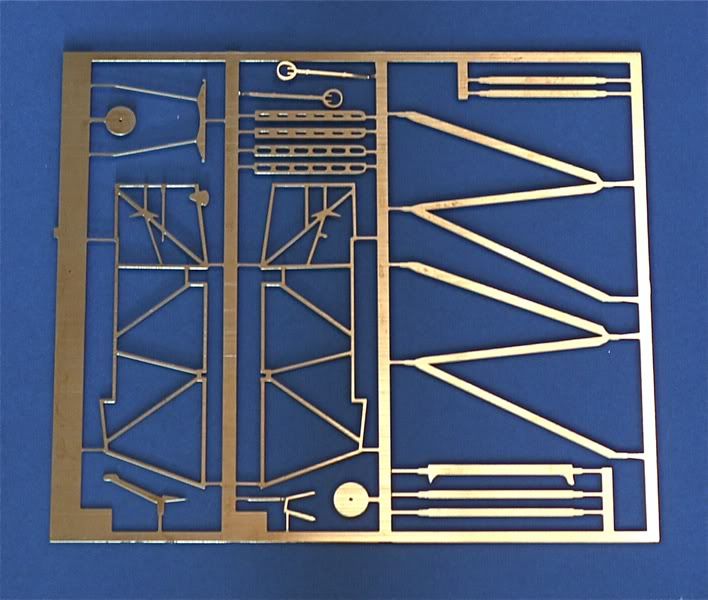 As you can see this is a thick peice of brass, so the struts should be pretty stiff. I'm toying with an idea to use a little Mr Surfacer 500 on them - just to round out the cross section a little. Personally I think this is an excellent idea - it allows struts to be much finer than short run injected parts would allow, while at the same time removing the need for the modeller to have to fabricate their own struts from plastic rod or Strutz type material. This makes the build far less of a challenge for the average modeller or biplane tyro.
Full written instructions, plus clear colour photos will guide you through the build, and I would advise you to break the habit of a lifetime and read them!
Markings are supplied for 2 Demons. K8203 , a restored aircraft, operated by Demon Displays in the markings of 64 Squadron, and as an option A1-8, another restored surviver, from the RAAF's Point Cook Museum. The decals were desinged by Pheon Models and printed by Fantasy Workshop - so you know they are going to be good. The printing is sharp , and colours looks very good. Full colour instructions will provide you with clear decal placement guides, and there is a surprisingly large amount of fine, legible stencilling to apply - right down to Dunlop logos for the tyres, and RR Kestrel emblems for the RAAF version, as well as an array of WT squares.
A rigging diagram is also included on the instructions, as are printed paper instrument dials to go behind the etch. Top tip here - stick a peice of sellotpae over the dials first then trim them out . The tape will "glaze" the dials and make them easier to stick to the back of the panel. The rigging itself is pretty straightforward - if you've never rigged a biplane model - this would be a good one to have a first go at.
Pheon will shortly be releasing 2 decals sheets to cater for this model too - I've seen the artwork and they are going to be fantastic!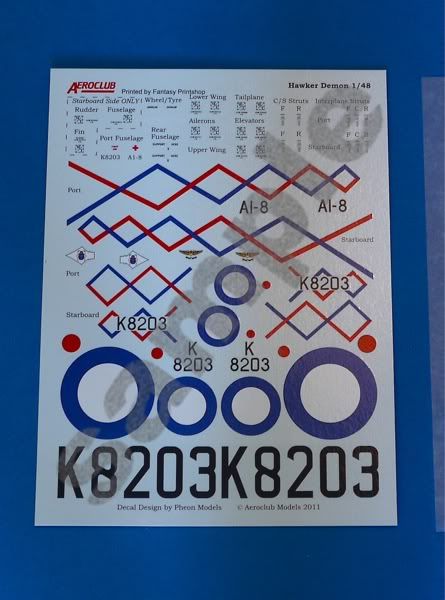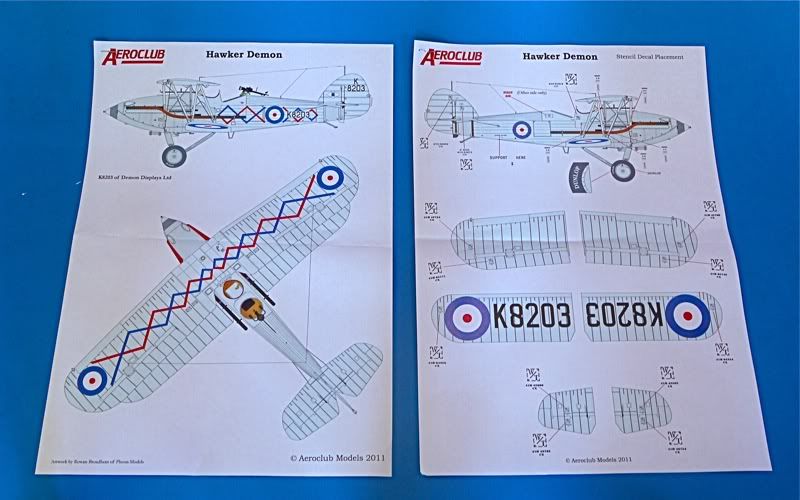 Conclusion
Now - how much does this little bundle of joy cost? In the last few years we've seen model prices go through the roof. Well sit down and prepare yourself. £26.50, Yep £26.50, which just about has to be a steal, and possibly one of the bargains of the year. You can order direct from Aeroclub - heres the link to their page on BM
Aeroclub's Britmodeller presence
You may have noticed that I havent commented on accuracy at all during my review. Firstly I don't know the airframe well enough to be able to comment. Secondly I trust John Adams to get it right.
In conclusion - here we have a fantastic model of an attractive, widely used inter war RAF Biplane at a bargain price. You'll need to use some modelling skills to build this kit because its short run and wont fall together, and you'll need to have some experience in using white metal and etched parts. What you get in the box will allow you to make a fine replica without need for scratchbuilding or a cavernous spares box.
Buy with confidence and enjoy!
Jonners