Detail set for Heller HMS Illustrious
White Ensign Models 1:400
Whilst the Heller kit of HMS Illustrious has been out for a while, it is still popular and gets snapped up whenever it come on the market. The kit is quite nice but it does have a number of shortcomings whilst also being quite simplistic. With this in mind White Ensign Models released this set of etched brass to bring the ship to life with some very fine detail. This is the first time Britmodeller has been able to review this set, which is still readily available from the White Ensign website.
The Set
Provided on two sheets of relief etched brass, this set provides the modeller with some nice fine detail for the ship, plus some parts for the kits aircraft. The first sheet provides a selection of generic railings, plus a number of deck netting parts. There are numerous weapons upgrades and additions, particularly for the 20mm and 40mm guns and their respective fire control radar aerials. The deckside aerial masts, island fittings and mast fittings of the model are replaced by etched parts. The funnel cap provided will not fit the inaccurate kit part as it has been designed to fit the White Ensign replacement island, (available separately). If the model is to be built as if at anchor, two accommodation ladders are provided for the ships sides. There are new vertical and inclined ladders, plus oars and rudders for the ships boats. The final few parts on this sheet are for the aircraft and provide replacement parts for the Propeller, struts, wheels and even an arrester hook for the Swordfish. The Martlets/Wildcats get new undercarriage, arrester hook and propeller.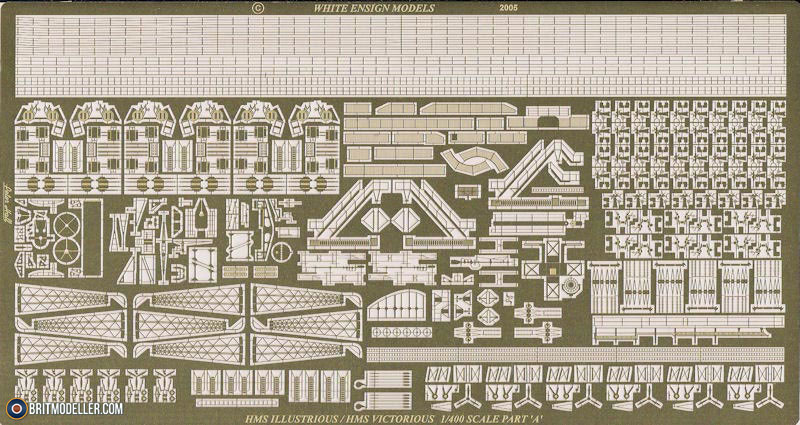 The second sheet is slightly smaller but no less significant. The largest part is the new gun platform for the stern with associated supports. New gun tubs for the quad 40mm guns, boat cradles, boat thwarts/gunwales, boat ladders, and a pair of mobile deck cranes complete the sheet.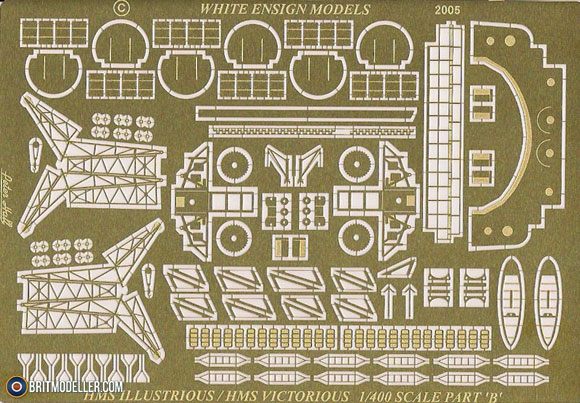 Conclusion
Another great set from White Ensign Models which really helps bring this Heller kit up to competition, if not museum standards, particularly if used in conjunction with the replacement resin island. I can certainly recommend this to anyone who has a penchant for British aircraft carriers.

Review sample courtesy of John at