Vacform Canopies (for various manufacturers)
All scales - Rob Taurus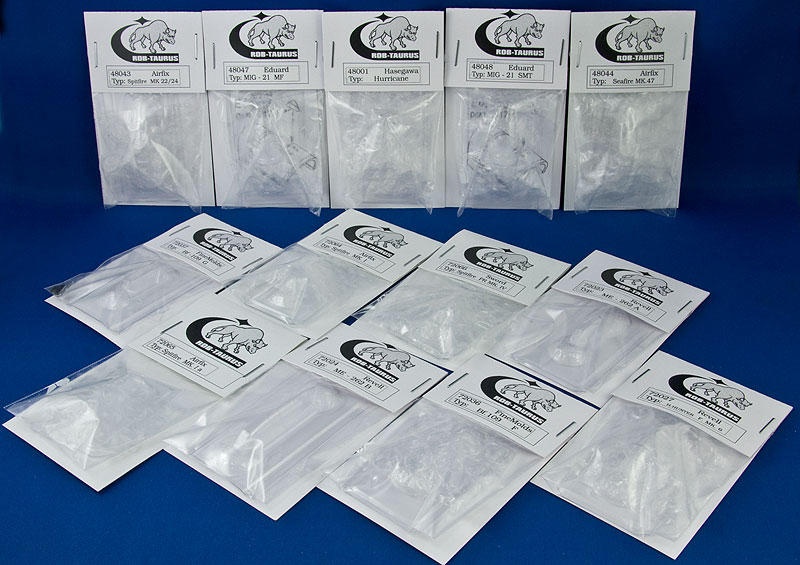 I've only recently come across the company name Rob Taurus, and while the name doesn't make it immediately apparent what they do, I think that their reputation won't be long in building, as the vacform canopies that they produce are amongst the clearest and crispest that I have seen. Robert kindly sent us a selection to review, and quite an impressive gaggle of replacement canopies they are.
The sheet used to vacform the parts is crystal clear, and the moulds are flawless, with canopy line definition as sharp as you could want, making masking a doddle. The cut-away areas that you'll need to remove are all cross-hatched to make it totally obvious which bits to remove. Additionally, where the replacement requires extra steps or the addition of kit parts, a small instruction sheet is also included. packaging is simple and efficient, with a small ziplok bag stapled to a card backing. Inside the bag is one canopy, usually covered with a small square of bubble-wrap, and with instructions where applicable behind the part against the header card.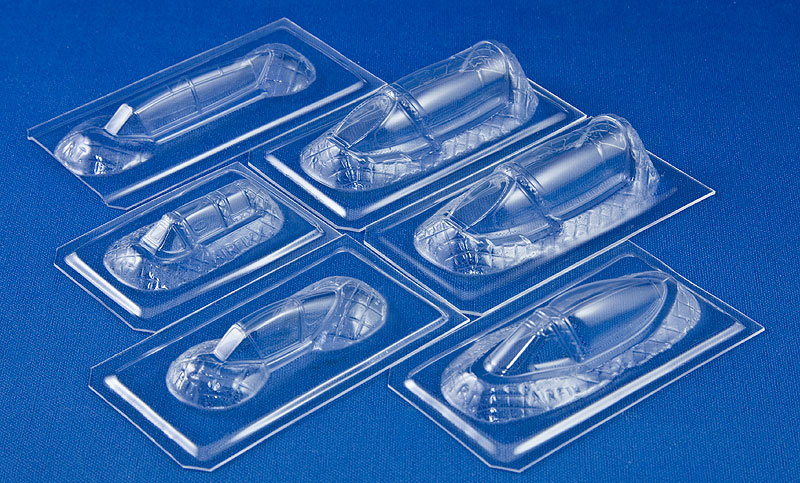 A selection of 1:72 (From rear Me.262B, 262A & Spit Mk.1) and 1:48 (Mig-21MF, Mig-21SMT & Seafire Mk.47) canopies to illustrate their quality
Some sets have clearly been designed with posing them open in mind, as they are provided in multiple parts. Others aren't, so you'll have to cut them apart using blutak as a temporary filler for the canopy while you're cutting.
Conclusion
These canopies are just beautiful, and will enhance any model that they are applied to. Care is clearly (excuse pun!) the order of the day, but if you cut them out roughly with sharp scissors, sand them to fit the model, and use Blutak to keep the canopy's shape whilst handling and cutting, you shouldn't have any problems. Glue them to the model with some Krystal Klear, PVA or GS-Hypo Cement, and you'll have a clear, well defined canopy that will enhance the scale look of your models.
A full list of available canopies can be viewed
here
, and can be purchased from a growing number of suppliers.
Heartily recommended.
Review sample courtesy of