R2-2US/AA-1 Alkali - Russian Missiles
1:48 Eduard Brassin (648040)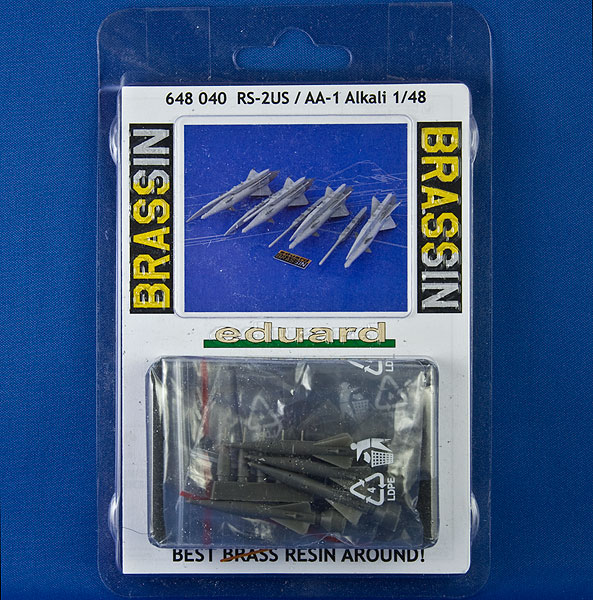 The NATO codename "Alkali" refers to both the original K-5 and this updated version used by the Soviet Air Defence forces (PVO). It was a beam riding missile and was used on the Mig-17, Mig-19, Mig-21PFM, Mig-21MF, and Sukhoi 9 aircraft with pylon adapters.
The set arrives in the usual blister package now associated with these medium sized Brassin sets, and inside are three bags of resin parts, well insulated from damage by their bags, and a piece of backing foam. There are four missiles cast on individual blocks, five blocks of four steering winglets, and five blocks of four bullet-shaped fairings to be attached to the tips of each of the main wings. A block of four aerodynamic fairings that normally cover the rear of the missiles is also included, together with a small instruction booklet.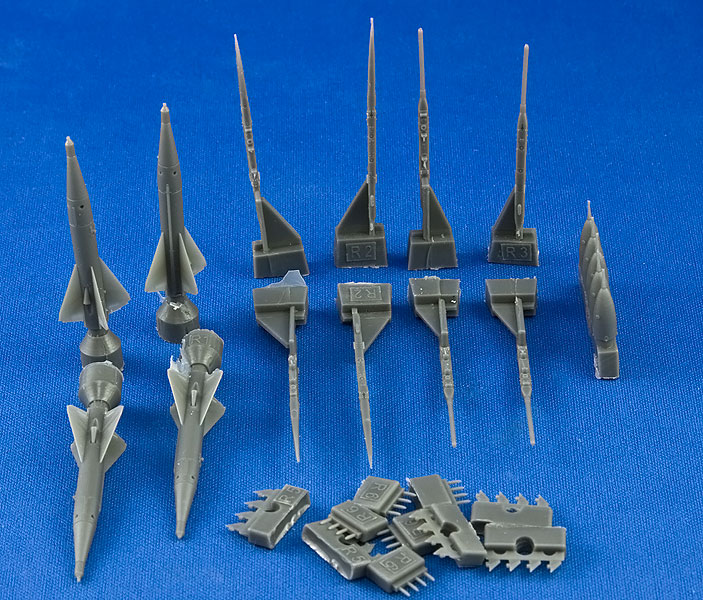 Construction of the missiles is straight forward, requiring the modeller to cut off with circular casting block from the missile body and tail cone, sand the surfaces smooth and then attach them with cyano adhesive. The steering fins will need care to get them sitting at the correct angles, as will the bullets on the ends of the main fins, but an extra block of each piece is present in case a few ping off into the ether. There are four of each of the two available pylon adapters (APU-7 & APU-4), and you will need to check your references to see which rails were used with which aircraft and operator. You will also need to check your references for the painting of the missiles, as no instructions are provided.
Conclusion
Good quality Russian munitions have been quite lacking on the aftermarket, and these new sets from Eduard help to fill that gap, and fill it well. Detail is excellent throughout, even down to the pylon surfaces, which have detailed upper and lower surfaces, allowing the modeller to pose them unloaded, or detached from the aircraft in a diorama setting.
Recommended.

Review sample courtesy of